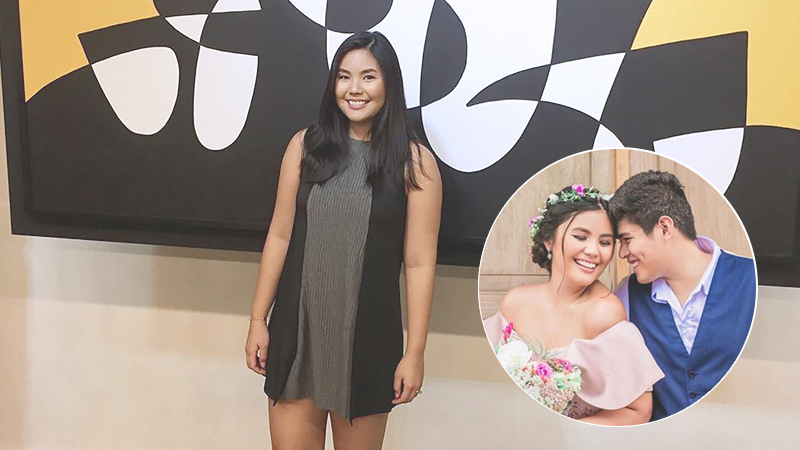 At 25, Paulina has launched two solo exhibits, acted in an MMFF entry, and by next year, she will be marrying Jed Llanes, her boyfriend of over two years. Read on as she talks about finding true love and how she manages her wedding planning:
According to Paulina, she knew she was ready for marriage because of her growing independence. "Growing up, I was very close to my mom. She single-handedly raised me from birth, so I was always dependent on her. With that being said, I knew I was ready when I started being more independent, which was also when I started my art career.
CONTINUE READING BELOW
Recommended Videos
ADVERTISEMENT - CONTINUE READING BELOW
"It also helped that I was with Jed, someone I knew I wanted to spend the rest of my life with," she shares with Female Network.
"When he proposed, we were both in good places in terms of our relationship and our individual careers."
When and how did you know Jed was 'The One?'
I can't pinpoint exactly when I knew Jed was 'The One,' but it was very early on in our relationship. I remember we were only together for five months, and I was already telling my friends that we would get married. I just knew because I'm a realist—after getting to know a guy, I always ask myself, "Can I see myself with him a year from now? Five years from now? Fifty years from now?" Before Jed, the answer was always no. Then when Jed came along, I found myself saying yes, yes, and yes.
ADVERTISEMENT - CONTINUE READING BELOW
I can't fully explain it, but I'm a level-headed person. I know who I am, and I know what I can tolerate. I know what I can handle—what type of person I can be with. After getting to know Jed, I knew I wanted to be around him (and love him) a year from now, five years from now, fifty years from now.
What were the challenges in planning your wedding that you did not see coming?
Having to coordinate and communicate with so many people is difficult. There are so many people you need to talk to when you plan a wedding—from suppliers, to your coordinator (if you have one, which you should), and your guests (family and friends). Even if you do have a coordinator to handle your suppliers, you still have to handle your family, your friends, your entourage, etc. I had to coordinate fittings for my bridesmaids and our sponsors. We had to coordinate transportation for some people because our wedding will be out of town. We had to fix hotel rooms for our immediate family members.
ADVERTISEMENT - CONTINUE READING BELOW
We had to personally contact so many people on our guest list to ask if they were going or not—that's another challenge we didn't see coming, the fact that not a lot of people actually make an effort to RSVP. We had to individually contact a lot of people on our guest list because we didn't know if they could attend or not, even though there was a clear deadline on our invite regarding RSVPs. We also couldn't just leave their attendance as a question mark because we had to fix the table arrangements and whatnot. It was really such a headache, but thankfully we [got] through it. 
The biggest challenge we didn't see coming, however, was the cost. As mentioned earlier, we started talking about getting married very early on in our relationship. We would actually attend wedding fairs and computed our estimate cost for a wedding even before we were engaged. All I can say is that based on our initial computation, we are way, way over budget. Everything is so expensive nowadays and there are just so many things you need to have a great wedding. It doesn't help that the standards for weddings now are so unbelievably high. With high standards comes a high price tag. We try not to think about it and just tell ourselves that we're only getting married once, so either we go big or go home.
ADVERTISEMENT - CONTINUE READING BELOW
Did your art influence the wedding aesthetic?
During one of our first meetings with our wedding coordinator, she actually asked me if I wanted to have my paintings as part of the wedding, like decorations for the reception. I quickly rejected the idea just because my art is a completely separate vision from my wedding.
My art is abstract, it's contemporary, it's minimalist, very simple. That's not really what I wanted for my wedding. I've always wanted a traditionally beautiful wedding. As much as I love the simplicity of abstract art, it just doesn't fit into the vision I've always had for my wedding.
How did you deal with multitasking your exhibit and wedding planning? Any tips for brides with full time jobs?
Honestly, having to plan an exhibit while planning a wedding was extremely stressful. I don't know what I was thinking when I decided to have an exhibit less than two months before my wedding. But my secret to multitasking is, ironically, to not multitask. I can be a little bit OC, and I like being organized and getting things done. So in order to stay calm and a little less stressed, I would just concentrate on one thing at a time.
ADVERTISEMENT - CONTINUE READING BELOW
As for tips, definitely get a wedding coordinator. Yes, it's an extra expense, but it is worth it. You will still have work to do and you will still have to make many decisions, but it'll make your life easier. Also, try to allot time during the day to deal with wedding planning. As I said, don't try to mix in your wedding planning with your job unless it is truly necessary. 
What's the best part about planning your wedding?
I think the best part is just having that day to look forward to. I know that it will be one of the greatest, most memorable days of my life, and I'm just excited to go through it with the people I love.
Comments
Load More Stories