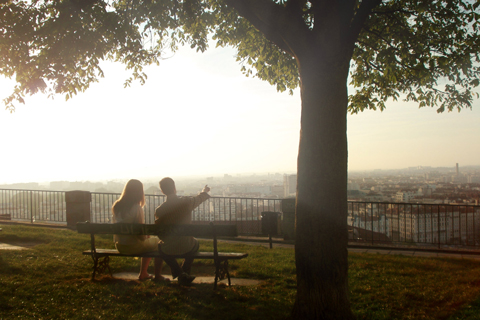 Couples usually come down with a serious case of betrothal-high following their engagement. Next thing they know, the preparations begin: they plan logistics, try to execute ideas and employ money-saving techniques. Still, as the adage goes, "The wedding may be over, but the marriage just started," and it is after the wedding that the real work begins.
Relationship experts report that too many couples fail to ask each other critical questions before tying the knot. Marriage is a real commitment to your loved one, and as in any relationship, goals and expectations must be discussed with your partner to ensure harmony and longevity.
We've gathered some questions that you should answer with your future spouse.
1. All About Children
Do we intend to have kids? If yes, how many? Who will be the primary care giver?
Should you both decide to have a family, some important and practical points you should bring up are the cost of living and education, vis-à-vis your combined spending power. There must also be an in-depth discussion on parenting responsibilities and parenting styles. Must one give up his or her job to be the main caregiver? If neither one of you is willing to do so, then a dialogue on parenting schedules vs. having a babysitter is needed. In this regard, you may also tap your relatives for help.
2. Money Matters
Has either one of us incurred debt before marriage? If so, can we settle it before we get hitched? Once we're married, who will handle the money?
Money talk is a delicate one to do, but this is one conversation that's necessary. You might hit a snag when handling money matters, but it's important to keep the communication lines open at all times. It's better to get tricky concerns out of the way so you won't have to deal with unpleasant surprises in the future. Discuss each other's assets and liabilities (and decide if you need to draft a prenuptial agreement). Should there be issues, these must be resolved between you and your spouse alone. Involvement of other parties can muddy the discussion and blow the whole thing out of proportion.
ADVERTISEMENT - CONTINUE READING BELOW
3. Starting a Home
Where will we live? Will we live with extended family or vise versa?
In the Pinoy setting, it is not uncommon for newlyweds to live with either set of parents or other relatives when the newlyweds are still trying to save up for their own place. On the other hand, one of you might have obligations in the family that involves having a family member live under your roof. Check if both of you are comfortable with either set-up. Also discuss if you'll buy a house together or if you'll rent a place.
4. Household Management
How will the household be maintained? How will we divide the chores?
Marriage is not only about love and acceptance. It also involves work--hard household work at that. Who will do the cooking, cleaning, laundry, or take out the trash? Such questions may seem trivial, but these are the things that make a house a home. A clear division of who-does-what may help you settle this, and try doing household work that you do best in your respective family houses. Should both of you be too busy to do the dirty work, consider hiring outside help if this is within your means.
5. Medical History
Have we fully disclosed our health histories, both physical and mental?
A history of hereditary diseases is one secret you shouldn't hide from your future spouse. These should be discussed with your partner as these may manifest in your future children. It may wreck the foundation of trust in your marriage should the unsuspecting spouse learn of the fact belatedly. He or she has the right to full disclosure, and this talk should also lead to your options as a couple.

To read more questions, see the next page here.
ADVERTISEMENT - CONTINUE READING BELOW
6. Bed Talk
Can we comfortably and openly discuss our sexual needs, preferences and fears?
When it comes to this subject, a tactful approach is always best. You both must be able to convey your fears and expectations without offending each other. A considerate lover should not push the issue if the other doesn't feel comfortable about it. Should there be a problem of the physical sort, there are medical experts who can advice you on the best way to resolve your concerns.
7. A Test of Faith
Must one of us change religion? What religion will we bring up our children?
Even the best of couples can disagree if this topic isn't handled with care. Before talking it out with your partner, remember to respect the other's opinions, beliefs and faith. Any discussion should be offered in good spirit, and with clean intentions. You may need the help of your respective spiritual advisors to settle this matter.
8. Affairs with Cliques
Do we get along with each other's family and friends?
Loving your partner doesn't always follow that you like his or her family and friends. Since you're merging two families, both of you have to make an effort to get along--or at least respect--each other's family. Also, chances are you may not be too chummy with all of each other's friends. It's noble to exert an effort to get to know your future spouse's friends; accept though that you can't win everyone over.
ADVERTISEMENT - CONTINUE READING BELOW
9. To Forfeit or Not To Forfeit
Are there some things that you and I are NOT prepared to give up in the marriage?
Sacrifices help strengthen relationships. Consider the extent to which you are willing to sacrifice without losing your identity. The best solution to this dilemma is to meet halfway. With this in mind, both of you should allow for concessions, yet retain your sense of self.
10. Career Concerns
Do we both need and want to keep working?  If either one of us has a promising career opportunity, but in a place far from our families, are we prepared to move?
Either one of you might not need to work if the other makes enough money to maintain the household--check if both of you will be comfortable with the set-up in case one of you stays home instead. If one's work requires you to move, consider the pros and cons of such a transfer. Take into consideration such aspects as the time frame of the relocation, its feasibility, and even job prospects for your partner. Also, be mindful of connections that you and your partner have with your respective families--assert visits from, or have vacations with, each other's kin. Whatever the outcome, the ultimate decision must be discussed thoroughly.
These are but a few of the daunting questions couples face before and after matrimony. You may agree to disagree for now, or pursue the conversation another day. What's imperative is that any issue raised must be dealt with straight on, and decisions or opinions must be meted out with the sole consideration and mutual respect for your significant other.
ADVERTISEMENT - CONTINUE READING BELOW
You might also want to check:
Comments
Load More Stories