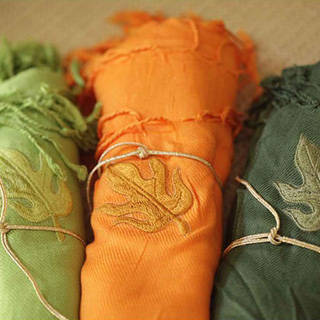 The color palette you choose for your wedding will set the event's overall look or feel. Whether you like something classic, modern, chic, or playful, picking the right colors is key to attaining the desired wedding motif or theme.
With the endless possibilities that color combinations present, choosing a particular color palette can be challenging. To help you decide, we asked one of the most sought-after wedding coordinators in the local wedding industry, Ernest Pascual of Bespoke Manila, to clue us in on where we can find inspiration for lovely wedding color palettes.
Consider your wedding's location.
Identify the dominant colors present in your location, and determine colors that would complement them. This way, your wedding details will pop against the backdrop, making for a livelier celebration. "If you are having a garden reception, veer away from the colors green and brown. If you are having a beach wedding, then you can opt to have blues, greens and even yellows. If you are looking for something to surprise your guests, you can even have orange for a beach wedding," Ernest says. If you don't know which colors will complement your venue, consult a color wheel, and pick the color that lies on the opposite of the dominant color in your ceremony or reception space.
Use holidays or seasons as inspiration.

Taking advantage of holidays and seasons not only creates a festive feeling at your celebration, but it also helps you come up with cohesive details. "Sometimes, the time of the year dictates the color motif for the wedding," says Ernest.  He adds, "If your wedding is close to Christmas, having a jewel toned palette would help create a vibrant and joyful vibe. For summer, yellows and greens would be perfect."
ADVERTISEMENT - CONTINUE READING BELOW
Find ideas from your favorite things.
Picking colors from your favorire things and incorporating them into your wedding is one subtle way to create a pleasant atmosphere at your wedding. Ernest personally takes inspiration from paintings, and even bookstores, when thinking of a color palette for his clients. The presence of well-blended colors allows him to be creative in selecting a palette. If there are places you and your fiancé love going to, visit them or look at photos and pick out the elements that can help you choose a palette. By adding these colors to your palette, you'll be stirring memories, and creating new ones as well.
Comments
Load More Stories