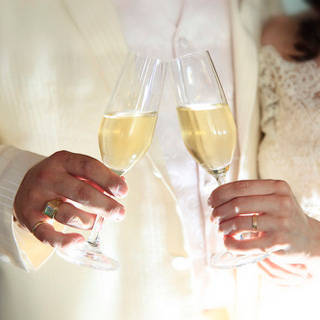 With the Filipinos' love for gatherings, reception programs are often loaded with different festivities. While you might be tempted to incorporate various segments into the program, make sure to prioritize specific parts that would allow you and your guests to enjoy the celebration.

Lia Bernardo and Rachel Martelino of Bridesmaids & Co., who've given advice to couples planning their weddings, are very familiar with the essentials in a reception program. They share some points you should keep in mind.
Make time to greet guests.

At the start of the wedding reception, form a reception line by the venue's entrance so you can greet guests one by one. You can include your folks in the receiving line, especially if they're footing the bill for your big day. Another common practice in Pinoy weddings is having the couple visit every table to thank and take photos with their guests.
ADVERTISEMENT - CONTINUE READING BELOW
Toasts are essentials in the program.

Remember to include the best man's toast, and the groom's response, in the program. These don't have to be long--they're actually better if they're just brief. The best man will speak on behalf of the guests, while the groom will speak on behalf of the newlyweds.

Games are slightly out of place in weddings, so if you can do away with games, you can just ask guests giving toasts to make their speeches humorous. If you must include games in the program, keep them short.
Keep video presentations short.

Limit video presentations to five minutes--anything beyond that might bore your guests. If you have a lot of videos and photos to show, you may present them at the despedida de soltera. Or, you can flash the images while your guests are at the dance floor. This way, you're not forcing everyone to watch.
ADVERTISEMENT - CONTINUE READING BELOW
Invite guests to dance.

Your first dance as husband and wife signals the start of the dancing for the evening. After you dance, invite everyone else to the dance floor. There's no need to prepare a long dance number, because guests might be too bored to dance when you finish.
To encourage guests to dance, give your DJ a playlist of songs that you know your guests will enjoy dancing to. Tell your guests about the songs that will be played so they'll stick around.
Have refreshments ready for those who stay.

Have coffee or light snacks served to guests who leave the party late. These are simple incentives that can help keep their energies up if they plan to dance the night away.
You might also want to check:
Comments
Load More Stories