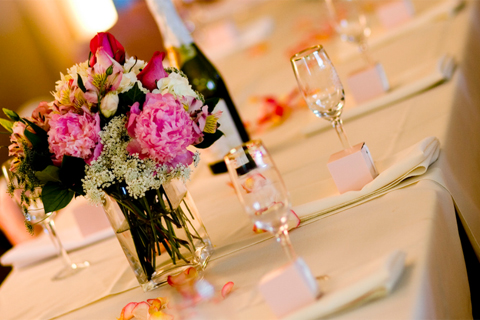 While some marrying couples live by the adage "The more, the merrier" as they plan their wedding, couples on a budget might find it difficult to accommodate a large number of guests.

Lia Bernardo and Rachel Martelino of Bridesmaids & Co., who are experts in the wedding industry, are well aware of the usual concerns for inviting guests to Filipino weddings. Below, the two share their tips on making it easier for couples to manage the expectations of guests, and predict their expected turnout.
Be specific when addressing invites.
Avoid invites that say 'Mr. & Mrs. X and Family' or 'The X Family.' In the local culture, a family can be made up of a large number of relatives. List down the names of the invitees and their children (if they're invited) to establish that you're not inviting the whole clan.
Inform guests about the number of seats.
When you send out invitations, indicate the number of seats reserved for your guest/s. This reinforces the fact that you are inviting a limited number of people--it's critical to do this if you're working on a tight budget. If some of your guests are part of an unmarried couple, remember that it's perfectly fine to not invite the partner to your wedding.
ADVERTISEMENT - CONTINUE READING BELOW
Stress the importance of replying to RSVPs.

Ask your maid of honor or a member of your family to spread the word that you're counting heads, so that guests will be more diligent about calling for their RSVP reply. Get a third party--like a friend--to receive and follow up on guests' RSVPs. If a family member keeps track of the RSVP, some of your guests might feel uncomfortable about turning down your invitation even if they can't come to your wedding.
Expect some fall-outs.
While a lot of couples worry about guests exceeding their expected turnout, also keep in mind that some guests will confirm but they might not show up. When your caterer or hotel asks for the minimum guarantee of guests at your affair, keep this formula in mind: X number of replies - 20 % of that number = minimum number of guests.
For listings of wedding invitation suppliers, click here.
For listings of wedding coordinators, click here.

ADVERTISEMENT - CONTINUE READING BELOW
You might also want to check:
Comments
Load More Stories