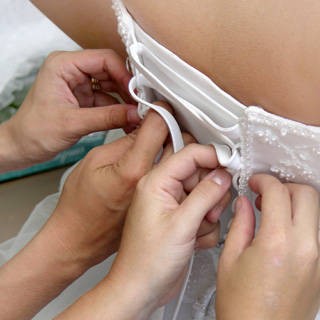 Bring undergarments that will go with your wedding gown's style or cut. Wearing the right underwear will make a huge difference in helping you visualize your look for the big day--for example, if your gown features a tube-cut bodice, you want to wear a strapless bra so that you can see what the dress looks like without your bra straps peeking out. Also bring body-shaping underwear, like a girdle, if you plan on wearing one on the big day. Fitting the gown with the appropriate underwear will also let you know if you can move comfortably in your gown.
Click here for more tips on choosing the right underwear for your wedding gown.
Bridal Shoes
Bring your bridal shoes with you so you can gauge if you can walk and move comfortably in your heels while wearing a full-length gown. Wearing your bridal shoes with the gown will also allow your designer to check if your gown is too long or too short once you slip on your shoes. Your wedding gown designer should be able to adjust the length accordingly.
ADVERTISEMENT - CONTINUE READING BELOW
Click here for tips on walking in heels.
Jewelry and Hair Accessories

If you are putting on a set of hair accessories or jewelry with your wedding gown, you should also bring them with you when you go to your gown fitting. Trying them on with your gown should give you an idea if they all go well together. There are particular styles of jewelry and accessories that go with certain necklines and gown styles, and you want the different elements of your ensemble to complement each other.
Don't hesitate to consult wedding gown designer for your accessory concerns. S/he should be able help you determine if the accessories match or overwhelm your gown. If your hair stylist or makeup artist is free on your gown fitting session, bring at least one of them along so they can start thinking of how to style you on your big day. Or even better--have your trial hair and makeup session on the same day, too (just be extra careful when putting on your dress). 
With these gown fitting essentials, your grand wedding entrance may be just a few steps (and alterations) away.
You might also want to check:
Comments
Load More Stories