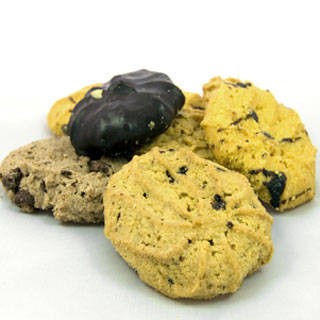 Want wedding souvenirs that are affordable and something everybody will appreciate? Well, why not give away food? They're easy to find and everybody is sure to enjoy them. Most edible wedding souvenirs are sweet confections that not only taste good, but can also be made precisely for your wedding. Indulge your sweet tooth and consider these options:
Lollipop cookies
Usually you can find these at kiosks at the mall in the shape of cartoon characters. There are some bake shops that accept orders for these, and will design the lollipops in the way that you ask them to. You can have lollipop cookies that look like something that symbolizes you and your new hubby.
Cookies
If you'd rather have regular cookies, putting them in a nice container that's been designed for your wedding is just the thing. There are also people who sell cookies on a made-to-order basis. Some of them even make cookies in cute and simple shapes and colors.
Personalized Candies or Chocolates
You can have candies made to have your names on them, or you can simply put them in a container that's been custom-designed for your wedding. If you plan to do this yourself, it can be as easy as having a sticker of your wedding monogram on a little jar or box and putting the candies there. Another way would be to buy the candies and enfold them in your own specialized wrapper.
Letter Doughnuts
Some shops, like Cello's Doughnuts and Dips, now sell doughnuts shaped like letters-why not give away these featuring your initials? You only have to order them in advance and they can come to you in individual boxes. They also come in a variety of flavors.
ADVERTISEMENT - CONTINUE READING BELOW
Cupcakes
You can order cupcakes in different colors and flavors, and have them each in their own little box. The store will probably provide their own box, but if you want them to look as though they're made just for your wedding, ask if they can personalize the box, or provide your own. You may seal the boxes with stickers featuring your monogram.
Mini-cakes
These are a little more expensive than cupcakes, but they're just as yummy and can look even better. Mini-cakes might be a little harder to find, but some cake suppliers can make these to complement your wedding cake. Giving these away will ensure that each guest gets to taste your wedding cake without having to wait for the cake-cutting ceremony.
Photo source: sxc.hu
Comments
Load More Stories