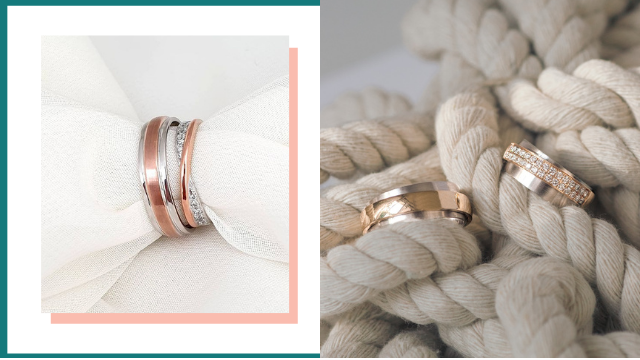 Wedding rings symbolize lifelong love and commitment within a marriage, so you must choose them well. Besides selecting the right design, you also have to consider a lot more factors before you finally make a decision. It may seem like a challenging task, but it doesn't have to be stressful at all—if you know where to look. To help you, the following are seven of the best places to buy wedding rings for couples in Metro Manila.
ADVERTISEMENT - CONTINUE READING BELOW
The Best Places to Buy Wedding Rings in Metro Manila
1. JMA Jewelry
Location: EDSA Shangri-La Hotel, 1 Gardenway Street, Ortigas Center, Mandaluyong City
Contact: 0977-8599753, info@jmajewelry.com, www.jmajewelry.com, www.facebook.com/JMAJewelry  
Motivated to continue family traditions while chasing her dream to come up with creations that could make one special moment shine, Jesusa Malig Ayson founded JMA Jewelry in 1997. Now the company is known for its delicately crafted pieces that are created with the help of an amazing team of jewelry artisans.  
The brand is a firm believer that the perfect wedding rings for you and your groom can't be instantly found in any shop display. Instead, they are crafted especially for you, and you should be involved throughout the process. With this in mind, its experts are always open to holding consultations with clients to make sure rings are created according to their specific needs and preferences. The store also offers services such as resizing, redesigning, and appraisal.
ADVERTISEMENT - CONTINUE READING BELOW
2. Goldenhills Jewelry
Locations: Robinsons Galleria, Robinsons Place Manila, TriNoMa, and SM Megamall; it also has a branch in SM City Clark
Contact: 0917-5170811, goldenhillsjewelry@yahoo.com, www.goldenhillsjewelry.com, www.facebook.com/goldenhillsjewel 
You will never run out of options at Goldenhills Jewelry. It currently has more than a hundred wedding ring designs, some of which were exclusively created by award-winning jewelry artists, including Rex Geronimo. Whether you are into gold wedding rings that are set with diamonds or those that have pearls and other semi-precious stones, you'll find something you'll fall in love with here. It even carries black diamond jewelry pieces that are popular all over the world. 
ADVERTISEMENT - CONTINUE READING BELOW
Its journey started in March 2004 when it joined Themes & Motifs' The Wedding Expo. Due to the successful run at the event, the company was inspired to develop its own line of wedding rings. It has been evolving since then, making sure that it keeps up with the latest trend in fashion and jewelry production by upgrading its technology. And as part of its commitment to help couples care for their prized wedding rings, it continues to offer services like free cleaning and resizing.
ADVERTISEMENT - CONTINUE READING BELOW
3. Karat Gold
Location: 3rd flr. Mega A, EDSA cor. Doña Julia Vargas Ave., Mandaluyong City
Contact: 8633-4988, info@kgphi.com, www.ekaratgold.com, www.facebook.com/ekaratgold 
For years, Karat Gold has been offering a wide array of classic and contemporary pieces of fine jewelry, ranging from simple ones that are great for everyday use to those that scream luxury. It has wedding rings at different price points and works with various materials, including tarnish-resistant metals to precious stones and pearls.
ADVERTISEMENT - CONTINUE READING BELOW
The brand takes pride in its online store that offers hassle-free browsing and shopping experience. This complements the services offered by its traditional jewelry store, which is located in Megamall, one of the biggest malls in Metro Manila. 
ADVERTISEMENT - CONTINUE READING BELOW
4. J's Diamond
Locations: Lucky Chinatown, Ayala Malls Manila Bay, and TriNoMa; the complete addresses of these branches as well as its store outside Metro Manila can be found here.
Contact: 8254-9097, js.diamond@yahoo.com, www.jsdiamond.com.ph, www.facebook.com/jsdiamondjewellery 
Founded in Hong Kong in 1998, J's Diamond expanded its operations to the Philippines in 2012. The company has been known for its innovative process in creating designs that tastefully blend classic appearances and the modern touch of minimalist designs. It utilizes CNC technology for the processing and finishing of its luxury creations.
ADVERTISEMENT - CONTINUE READING BELOW
It has in-house experts you can consult with so you can get all the help you need in choosing the right wedding rings and raise whatever questions you may have.
ADVERTISEMENT - CONTINUE READING BELOW
ADVERTISEMENT - CONTINUE READING BELOW
5. Meicel Jewelry
Location: 34 Wilson St., West Greenhills, San Juan City
Contact: 0920-9216837, 8725-8311, inquire@meiceljewelry.com, www.meiceljewelry.com, www.facebook.com/meiceljewelry  
Meicel Jewelry is known for its affordable customized jewelry. It offers flexible payment terms and free shipping all over the Philippines, as well as a warranty that covers lifetime cleaning and diamond-checking to help you ensure the remains secure on your ring. Diamond is also thoroughly checked upon pickup, so you won't have any doubts about its authenticity. Every purchase comes with a card certification, too. 
It released its first bridal jewelry collection in 2005 when it participated in a bridal fair at the Megatrade Hall. Since then, it has been joining and getting the top booker award at wedding expos in various locations, such as PICC, NBC Tent, Esplanade, SM Megamall, SMX Convention Center, Rockwell, Taal Vista Hotel, and Singapore, which goes to show how much couples love its creations.
ADVERTISEMENT - CONTINUE READING BELOW
ADVERTISEMENT - CONTINUE READING BELOW
ADVERTISEMENT - CONTINUE READING BELOW
6. Denovo Diamonds
Location: Ground flr., Century Mall, Makati City
Contact: 7955-1509, shop@denovodiamonds.com, www.denovodiamonds.com, www.facebook.com/denovoDiamonds  
A known maker of personalized wedding rings in the Philippines, Denovo Diamonds creates pieces that are meant to last a lifetime. Eager to celebrate local arts and culture, it works with top artists as it comes up with designs that perfectly encapsulate the story of their wearers. 
ADVERTISEMENT - CONTINUE READING BELOW
Located at Makati Central Business District, its concept store offers clients a unique shopping experience as it veers away from the usual style of jewelry stores. Instead of having glass counters behind which staff members stand, it makes use of back glass panels and the white light boxes that resemble diamonds in a diamond mine. 
ADVERTISEMENT - CONTINUE READING BELOW
ADVERTISEMENT - CONTINUE READING BELOW
7. Jewelmer
Locations: Alabang Town Center, Ayala Malls Manila Bay, Glorietta 4, Greenbelt 5, Power Plant Mall, Shangri-La Plaza, SM Mall of Asia, SM Megamall, The Peninsula Manila, and TriNoMa; List of other branches outside Metro Manila and the Philippines can be found here.
Contact: inquiries@jewelmer.com, www.jewelmer.com, www.facebook.com/jewelmer  
ADVERTISEMENT - CONTINUE READING BELOW
Founded in 1979 by a French pearl farmer and a Filipino entrepreneur, Jewelmer is an international luxury brand that aims to showcase the beauty of cultured South Sea pearls and elegant fine jewelry. The company takes craftsmanship seriously. It is bold enough to come up with unique pieces that are said to reinvent beauty.
It currently has a physical store in various locations within Metro Manila and other parts of the Philippines. It also has an online boutique that showcases its impressive collections. Delivery is done by its trustworthy and well-trained logistics team, so rest assured that your wedding rings will reach you safely if once you purchase from this brand. 
ADVERTISEMENT - CONTINUE READING BELOW
ADVERTISEMENT - CONTINUE READING BELOW
Things will be a lot easier once you find a store that ticks off every criterion on your list. It means you can simply select pieces that appeal to you the most then thoroughly compare them to one another until you find the perfect pair of rings for you and your groom-to-be. Good luck and happy wedding ring hunting!
ADVERTISEMENT - CONTINUE READING BELOW
Load More Stories