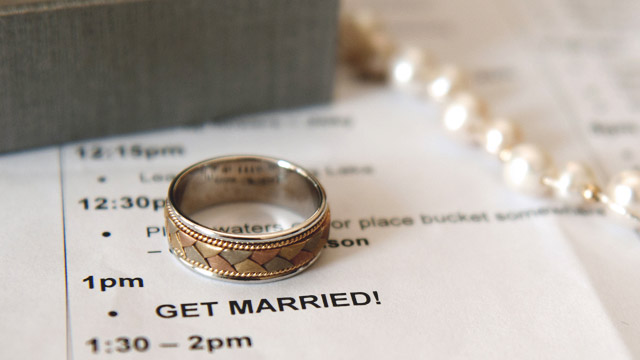 Planning a wedding is no easy feat—from oculars and food tastings, down to the supplier selections and DIY projects. Ask any bride and they'll say the same thing: your organizational and scheduling skills will truly be put to the test. What more if you have a full-time job that takes up most of your days?
ADVERTISEMENT - CONTINUE READING BELOW
If you can afford it, Girltalker lalee8888 says to hire a full-time coordinator. "They are worth their price in gold. They refine the entire planning process for you, so you don't miss out on details, they also have a cache of reliable suppliers that work in your venue, which helps you when choosing, instead of having to do research from scratch." 
CONTINUE READING BELOW
Recommended Videos
But if you're on your own, believe it or not, there's a way around this! We asked brides-to-be to share how they managed to nail the wedding of their dreams despite their busy schedules. Read closely, ladies, because these tips will help big time with your preps:
Utilize social media (and your groom!)
"We can (now) review works of certain suppliers before deciding on meeting them. I usually narrow down the list of suppliers, and we both decide who to get. I do most of the communication via email and Facebook messenger. He does most of the banking transactions (like paying for the deposit) since his schedule permits. It's a team effort." - Girltalker tomatostellar
Manage your time wisely
"Setting a dedicated time ALONE and dedicated time with the fiance to plan the wedding got us really accomplished. I set one hour a week to do solo research and another hour each week with my (now) hubby to bounce off ideas and see if we are on track especially with the considerations on his side of the family/guest lists.
ADVERTISEMENT - CONTINUE READING BELOW
"Plan the big milestones so you know where you can procrastinate and where you can't, and so you know where to prioritize and which task to pick up next." – Girltalker lalee8888
"Since both of us have odd schedules, we agree on a date when both of us are free or can take a leave from work to attend wedding expos or do an ocular. We also have a checklist of suppliers in order of priority, so we can decide whether to book them now or on the latter part of the preparations." – Girltalker abuelita
"We've laid out little milestones to accomplish each month. That way, we don't feel overwhelmed about having to do everything immediately. There are apps (LadyMarry) and websites that provide input on how soon you should start booking so-and-so suppliers or do specific tasks" – Girltalker cbj021
"Take time to scout and research the most important ones. I am a March 2019 bride-to-be, and na-book pa lang is the venue (ceremony and reception) and the P&V. You have to decide on the date first and location (Metro Manila, Tagaytay, Boracay, etc), because that's your basis when you are looking for suppliers and also to minimize cost and effort." – Girltalker Hanaphinee
ADVERTISEMENT - CONTINUE READING BELOW
Call in the Bride Tribe 
"Ask your bridal party to do research for you so you have narrowed down options. They do the legwork, and you have the final input." – Girltalker lalee888
Got any more tips to share? We'd love to hear more of them over at our Girltalk forums on Engagements and Weddings!
*Minor edits have been made for clarity.
Load More Stories