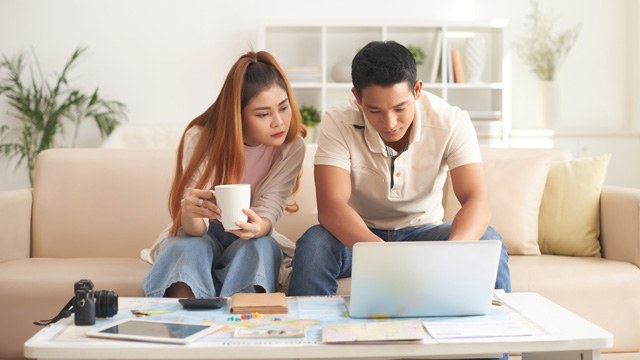 Once your engagement high has settled and the confetti swept away, you'll immediately need to get down to the not-so-glamorous side of getting hitched--that is, planning your wedding.
So many couples want to make their dream weddings come true that their marriages start in debt, which later on creates more problems especially once children come along. We reached out to Usapang Pera's Wealth Expert Vince Rapisura to help brides and grooms know what they're getting themselves into.
ADVERTISEMENT - CONTINUE READING BELOW
"The main principle for saving money before tying the knot is trust," he says. "I typically deal with principles rather than exact 'how to's' because it is very difficult to have blanket strategies for everyone. We all have our own quirks and priorities so it is best to test financial decisions against agreed upon principles." 
CONTINUE READING BELOW
Recommended Videos
Female Network: How exactly should you and your fiancé pool your money together for your wedding? Should you have a shared bank account for it?
Vince Rapisura: When planning for a wedding, it is always important to agree on a plan and stick to it. It is also always important to set limits because the tendency when dealing with suppliers and wedding planners is to upgrade.
When the above is followed, it is easy to decide whether to pool money together or a party would have a larger share.
A shared bank account is good since it is easier to track the flow of money—how much is coming in and how much is going out. What's more important is keeping track of every deposit and withdrawal and have proper description for it.
ADVERTISEMENT - CONTINUE READING BELOW
FN: Is it advisable to use your credit card when dealing with suppliers?
VR: If the amount spent in the credit card will be settled in full on its due date. Then I don't see the reason why not. If the couple has a single doubt that they could not pay off the whole balance, they should not use a credit card.
When [a] credit card is used to finance a wedding, it is already… a bad start, financially, for the couple's married life. Imagine this, they are starting their married life on debt! They start not at zero, but at a negative.
There are benefits to using credit cards when dealing with suppliers. One can always refund and file complaint with the credit card company and it would be easier to get refunded. You also get loyalty points, a huge one since a wedding is a high ticket item.
ADVERTISEMENT - CONTINUE READING BELOW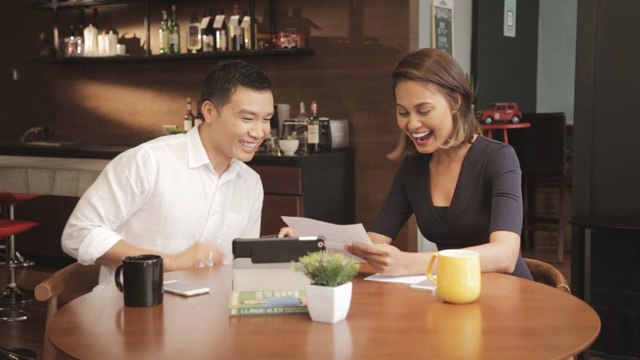 FN: Should you even consider getting a loan for the event?
VR: No. Never. Go and get married in the city hall without much fanfare. What matters is the love and not getting yourself into debt.
FN: Is it wise to use your investments (such as stocks, mutual funds, etc.) to pay for your wedding?
VR: Usually, weddings are planned for a year. Stocks and mutual funds are well-suited for financial goals with a long term horizon. Therefore, they are incompatible in terms of time horizon.
ADVERTISEMENT - CONTINUE READING BELOW
The reality is, weddings are financed by families, not just the couple. Therefore, families should keep to their capability to afford a wedding. If the couple or their families are to borrow money to finance a wedding, it is not a wise financial decision. Loans should only be used for productive purposes. One does not earn profit from a wedding.
FN: There are some couples who start their marriage with in debt because they spent too much for the ceremony and the reception. How can this be resolved, and what should be their timeline for it?
The first rule is not to borrow money just to finance a wedding. Even a small shortfall is unacceptable, in my opinion. I would even go as far as saying, that the couple considers postponing the wedding to save more if they really want to have the wedding that they like rather than borrow money.
ADVERTISEMENT - CONTINUE READING BELOW
What is important is the financial health during their married life which could last for 50 years. A wedding only lasts for a day. Memories should be built in the journey of the marriage and not make the wedding day the "happiest" day of their life. There should be happier memories created after the wedding - having children, owning a house, family vacations etc.
If they already got a loan for their wedding and [are] married, they should prioritize paying off the debt. That's their first financial goal as a couple. The sooner they pay it off, the better. After paying, they should lay away from getting loans that are non-productive.
If you're looking for ways to cut costs on your wedding, get tips, reviews and more from former brides at our Engagements & Weddings forum on Girltalk!
Learn how to manage your finances with Vince Rapisura on Usapang Pera on Facebook!
ADVERTISEMENT - CONTINUE READING BELOW
Comments
Load More Stories