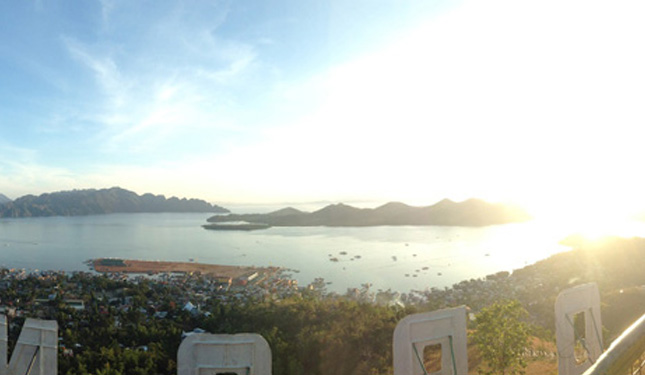 When my husband Melbert and I were deciding where to go for our honeymoon, there was no question that it would be at the beach. Since we had already been to Puerto Princesa, we decided to visit its much-talked-about sister, Coron. Scroll down to check out our adventure.


Wait for a seat sale and choose a morning flight.

ADVERTISEMENT - CONTINUE READING BELOW

CONTINUE READING BELOW

Recommended Videos

Flying to Palawan can be expensive—some even say that for the same price, you could already go on a trip to Hong Kong. But of course, we were after clear waters and white sands, so Palawan was really on top of our list. To make our trip more cost-efficient, we waited for a seat sale as early as the year before our wedding.

When booking your ticket, choose a morning flight. The front desk at our hotel mentioned that afternoon flights in Palawan are usually in danger of getting delayed or cancelled. While they did not explain the reason, we think choosing a morning flight is still a good idea because it gives you time to explore the town of Coron in the afternoon.

Choose accommodations in Coron town proper.
We chose to stay at Corto Del Mar , located in the town proper and just 30 minutes away from the airport. It has a Mediterranean charm that's perfect for couples who just want to relax and feel like they've been transported to a different place.





The pool area of Corto Del Mar



Since we arrived at the hotel after lunch, we had time to rest and head up Mount Tapyas, the highest point in Coron, in the late afternoon.

It takes 750 steps to get to the top of Mount Tapyas, but there are many landings where you can take a break to catch your breath and enjoy the view. There were many points in our climb where I wanted to quit, but Melbert would keep encouraging me to keep going.





Locals and tourists alike climb to the top of Mount Tapyas for this sunset.



Once we got to the top and we were greeted by a beautiful sunset, I learned something about me and my husband—that while I have a tendency to get discouraged early in the game, I could count on him to always encourage me to keep going and have faith in myself, no matter what difficulty we faced. Our honeymoon was off to a great start!

After climbing down from Mount Tapyas, we explored the rest of the town to find a place for dinner. Melbert and I particularly enjoyed the fresh seafood from Winnie's, a local favorite that requires reservations as the place fills up quite easily. Their specials change daily depending on what they buy from the market that day. It was surprising to discover that Coron's specialty was pizza, and the adobo pizza of Corto del Mar and Poseidon Pizza of La Sirenetta are worth trying—the latter comes with a beautiful view of Coron Bay.


Poseidon Pizza of La Sirenetta




La Sirenetta gives you a view of the boatmen returning from the day's tours.



Plan your itinerary.
One of the biggest things I have learned from Melbert is how to be more spontaneous. He has taught me that adventure doesn't come with a schedule, so I've since learned to plan the most basic itineraries for our travels—mostly limited to what time we'll wake up and hit the road.

But this spontaneity is not 100 percent advisable when visiting Coron, only because there is so much to see and you run the risk of not maximizing your time properly. We discovered that there are many different kinds of tours that you can take in Coron. The catch is, you can't mix and match the attractions of different tours because of their distance from one another. Local tour groups have already customized these tours so that you're able to maximize the day.

For all tours, you have the option to join a group comprised of 15 to 20 tourists from other hotels, or you can choose to have the boat all to yourself. If you and your husband enjoy meeting new people, then you may want to consider being a "joiner," as they call it.

Melbert and I opted for the customized tour so that we could maximize our quality time together and have more control over our time. We enjoyed getting to know our boatmen, who provided trivia for all of the places we had been to, went with us to the market to buy our food for lunch, cooked our meals straight from the boat, and even snorkeled with us to point out choice spots underwater.



Choose from the available tours, then have fun!
One mistake we made during our trip was we assumed that all tours were available daily, and this is why we failed to go on the Calauit Safari Tour. Calauit Island is a wildlife sanctuary that houses endangered animals from Africa such as giraffes, zebras, waterbucks, and gazelles. It's the closest we can get to Africa! However, the island is three hours away from Coron by boat, and most tour operators prefer to form a group of tourists from many different hotels in order to maximize the trip. So if this tour interests you, be sure to inform your hotel right away so they can inform you of the tour's schedule.

Those who enjoy snorkeling and diving should try the Reefs and Wrecks Tour, which will take you to various snorkeling sites where you can see Japanese shipwrecks from World War 2. If you already have your own gear, you may bring them with you on your trip as you'll be using them the entire day.





These striped fish, in particular, kept coming back for more bread!



If lounging by the beach is more your style, go on the Island Escapade Tour like we did. This tour took us to three beautiful white sand beaches for swimming, snorkeling, and fish feeding!





The beautiful white sands of Malcapuya Island



Before starting your tour, you can visit the local market and choose from fresh shrimps, crabs, fish, and other types of seafoods and meat for your lunch on the islands. Be sure to also buy some bread—you'll be surprised to see how hungry the fish can be!

Of course, no trip to Coron is complete without seeing its renowned spots, so be sure to sign up for the Coron Islands Tour, which will take you to Siete Pecados and Kayangan Lake for swimming and snorkeling. Kayangan Lake, in particular, required a short trek to get to the lake, but the aqua blue waters made the easy trek worthwhile.





The trek gets easier when you see beautiful Kayangan Lake.



Melbert and I were pleasantly surprised to learn that Coron had so much to offer—white sand beaches, shipwrecks, beautiful crystal-clear waters, impressive rock formations, and great food. Our time in this little piece of paradise gave us the perfect start to our marriage.

PHOTOS: Ingrid Villafuerte Puache


Comments
Load More Stories