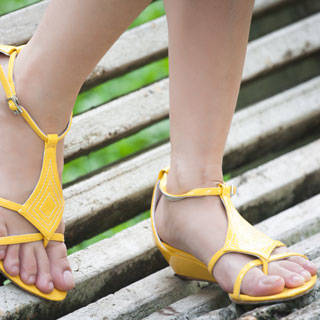 You'll be on your feet for most of your wedding day, so it's important that the shoes you're wearing are comfortable. Choosing the right pair of shoes for your big day doesn't just mean picking a pretty pair that fits you right--you also have to consider the type of venue your ceremony and reception will be held in. See our footwear suggestions based on your venue's surface.

Indoors


If your wedding is going to be held indoors or somewhere with an even floor surface, then you don't really have much of a problem. Whether you'll be in high heels or flats, your feet will be fine so long as the pair you've picked fits you well and provides the right support for your feet. However, if the floor of your wedding venue is textured (like floors made of uneven stone tiles or cobblestones), wearing stilettos and sky-high heels can be a challenge. Block heels will be lot easier to work with.



Garden


A grassy lawn can either be firm or soft and muddy. If it has been raining or if the lawn had just been watered, the ground may be a bit soft on your wedding day. When that's the case, stiletto heels aren't the kind of shoes you'll want to be wearing, because the thin pointed heels will sink into the soil, making it very hard to walk. You can try balancing on your toes (which is even harder in heels), but your feet and legs will start aching after a few minutes, and one false step can lead to a serious injury. Flats are the best shoes for this type of terrain, but if you've got your heart set on wearing heels, choose shoes with thick heels, or a pair of wedges.



Beach

The feel of sand beneath your feet can be relaxing, but having to pull the heels of your shoes out from the sand can be frustrating. Thin pointed heels won't sink in sand as fast as they would in muddy soil, but flats or wedge heels are still your best bet for walking down a sandy aisle. If your wedding will be held in a floored or carpeted area, then you can still wear your stilettos without a hitch--just make sure to change your footwear before taking a stroll on the beach.

Comments
Load More Stories