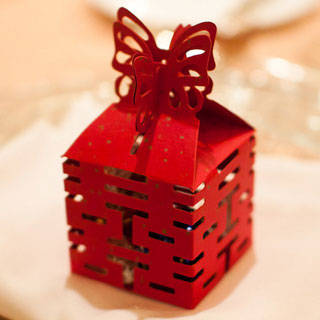 Every culture has its own set of traditions which are preserved and passed from generation to generation. Filipino-Chinese couples, for instance, observe the Ting Hun or Chinese Engagement Party. This signifies that both families formally accept their future son or daughter-in-law. The ceremony itself is full of symbolism in the form of gifts, food, and rituals done in chronological order, and each with a specific meaning.
Traditionally, the Ting Hun is done in the bride's residence. However, due to the elaborate set-up, intricate steps, and meticulous preparations needed for this tradition, some modern brides prefer to do the ceremony at a hotel or restaurant that caters specifically to this kind of formal celebration. Here are a few ideas on where you can hold your Ting Hun.
Mandarin Oriental Manila

Mandarin Oriental Manila, in the midst of the Makati business and commercial district, is one of the branches of the Mandarin Oriental Hotel Group chain of hotels around the world.  Comfort, service and luxury are their main goals, all of which they have in mind when they constructed their Ting Hun Package. With six Chinese Lauriat menus to choose from, they also take care of the basic essentials needed for the ceremony itself including food and décor for the reception, an overnight stay in their deluxe room, complimentary use of amenities (gym, steam room, pool) and breakfast for two. Packages start at P196,888++ for a minimum number of 100 persons (10 tables of 10 persons).


To learn more about Mandarin Oriental Manila, click here.


ADVERTISEMENT - CONTINUE READING BELOW

CONTINUE READING BELOW

Recommended Videos
Crowne Plaza Manila Galleria
Right in the midst of the Ortigas hub, Crowne Plaza Manila Galleria boasts 15 function rooms that can tailor to your specific needs and preferences. They recently launched their Ting Hun packages that cater to Filipino-Chinese couples seeking a stress-free engagement ceremony. Starting at P186, 800++ for 10 tables with 10 persons each, the package already includes the basic requirements for the ceremony itself (the boutonniere, the corsage, two fondant engagement cakes, fortune cookies, sweet egg soup and misua, and orange juice). They also take care of the reception table decor, and offer a wide array of Chinese Lauriat menu for your guests. The package also includes car service, complimentary overnight stay for two persons and a 10% discount on food and beverages should you decide to hold your wedding reception there.
To learn more about Crowne Plaza Manila Galleria, click here.

Century Seafood Restaurant, Century Park Hotel

Right in the heart of Manila, Century Seafood Restaurant specializes in affordable Chinese cuisine. Located at the ground floor of the Century Park Hotel, this restaurant has two function spaces for special occasions, and two smaller rooms for a more intimate gathering. Their Ting Hun package starts at P11,000 for 12 pax, and includes the a lunch menu for your guests as well as food essentials for the ceremony like egg soup and misua. The couple will have to provide the rest of the essentials but will definitely appreciate the wide variety of authentic Chinese food and filling portions per serving.
ADVERTISEMENT - CONTINUE READING BELOW
To learn more about Century Park Hotel, click here.

Summer Palace, EDSA Shangri-la Manila

A five-star hotel hotel with the feel of a deluxe resort, EDSA Shangri-la Manila is known for their impeccable service and luxurious offerings. It is also home to a variety of several international restaurants, including Summer Palace, which serves Cantonese specialties with South East Asian influences. While the hotel itself offers no specific Ting Hun package, the Summer Palace has already been host to several Chinese engagement parties. Their package includes the food essentials needed for the rite prior to the lunch reception. Moreover, their waiters already know the specific sequence of the ceremony, and both the bride and groom-to-be need not fret about the order of the Ting Hun itself.

To learn more about EDSA Shangri-la Hotel, click here.

You might also want to check:


ADVERTISEMENT - CONTINUE READING BELOW
Load More Stories