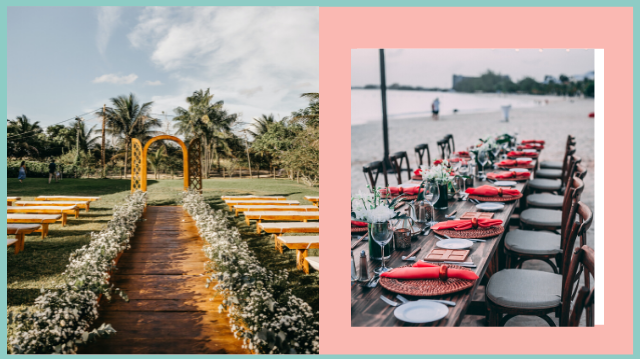 Your choice of venue can make or break your big day. Whatever you decide on can greatly affect other aspects of your wedding, including the outfits you and your wedding party may be required to wear as well as the overall vibe and look of your celebration. But before you start making inquiries about potential locations, you need to learn about the different wedding venue types first.
ADVERTISEMENT - CONTINUE READING BELOW
Different Types of Wedding Venues 
1. Beach Wedding Venues
Pros: It's so fun to plan beach weddings because they tend to be very flexible. A beach is like a blank canvas where you can easily turn your vision board into reality. You can even personalize it as much as you want either by going for minimal décor or opting for a more elaborate setup. Whatever you choose, one thing is for sure: Your wedding is going to be one of the books. 
Cons: The environment can be very unpredictable, especially as we continue to grapple with the climate crisis. And, unless you are picking a private or secluded beach wedding venue where you can have the beach all to yourself, you may have an audience as you walk down the aisle.
2. Garden Wedding Venues
Pros: Garden wedding venues are more common and accessible. In Metro Manila and nearby provinces alone, there are already quite a lot of spots you can choose from. Since gardens already look great because of all the plants and trees enveloping them, you may no longer need to spend a lot on styling. Moreover, a lot of garden venues already have their own tables and chairs, making life easier for brides-to-be.
Cons: You and your guests may have a hard time if it suddenly rains and your chosen venue doesn't have a tent on standby. Temperature can also be very tricky. At the same time, you may have unwanted guests in the form of bugs. 
3. Restaurant Wedding Venues
Pros: Restaurant weddings venues are synonymous with practicality. Choosing to have one means you don't have to book a venue and a caterer separately. They can be more affordable, too, since most restaurants simply ask customers to pay for a certain amount of consumables or a fixed price per guest to let them use their space.
Cons: Compared to other venue types, restaurants usually have smaller spaces. Therefore, they are not ideal for you if you are thinking of inviting a lot of guests or if your guest list keeps growing longer each day. It's also worth noting that since restaurants weren't built especially for weddings, they may not be able to offer certain amenities other venue types usually have, like chairs, tables, accessories, and rooms that can be used for preparations.
ADVERTISEMENT - CONTINUE READING BELOW
4. Hotel Wedding Venues
Pros: Hotels weddings are convenient. Apart from having a team of banquet specialists to walk you through the entire planning process, they also have a list of in-house and accredited service providers to make sure you're worry-free on your wedding day. Wedding packages usually include a room or a suite as well, which means you'll have a place where you can prepare before your big day. Additionally, arranging accommodations and transport for your guests is a lot easier when you are getting married in a hotel.
Cons: Hotel weddings can be pricey. Because you're allowed to work only with either their in-house or accredited professionals, you won't be able to easily select vendors that offer the lowest rates. In addition, you may not have a lot of privacy unless, of course, you are renting the entire hotel. 
5. Function Hall Wedding Venues
Pros: Standalone function halls are also practical choices, especially for budget-conscious brides-to-be. They come in various sizes, so you can surely find one that suits the number of your guests. Most of these venues also offer a ton of flexibility in terms of the selection of vendors they are allowed to work with.
ADVERTISEMENT - CONTINUE READING BELOW
Cons: Many function halls only have the essentials, so you cannot really expect too much from them unless of course these amenities are included in the package that you are getting. Because of this, you may have to manage your expectations and even prepare yourself to spend some extra cash on other wedding needs you may have. And because it's a standalone venue, you have to book suites or rooms in a different location for your wedding preparations and for your guests' accommodations. 
6. Museum Wedding Venues
Pros: If you want a unique wedding venue, then you should book a museum or an art gallery that also hosts celebrations like nuptials. Because museums already look great, particularly those that house jaw-dropping artworks, you can have a nice wedding even with minimal décor. And, most importantly, you and your guests can enjoy the ongoing exhibits on your wedding day.   
ADVERTISEMENT - CONTINUE READING BELOW
Cons: Museums have restrictions, which means you and your guests won't be able to party as much as you like. These venues may also impose certain guidelines when it comes to picture-taking, especially if they are home to masterpieces and artifacts that may be damaged because of flash photography. 
ADVERTISEMENT - CONTINUE READING BELOW
7. Backyard Wedding Venues
Pros: You can save a lot of money if you, a relative, or a close friend owns a property with a nice backyard that can accommodate a number of people. The celebration will also feel more laidback and intimate, making it perfect for brides-to-be who want a low-key reception. 
Cons: Since space can be very limited, you'll have a hard time if you suddenly end up with more guests than originally expected. Parking can be a problem, too, if your chosen property does not have a huge parking lot or is far from any commercial area that offers parking services. You may also have to deal with specific restrictions imposed within the village or barangay where the venue is located. 
8. Warehouse Wedding Venues
Pros: Warehouse weddings are not yet huge in the Philippines, but you should consider having one if you want a one-of-a-kind celebration. Plus, these venues are usually bare and have a lot of space, so you can style them however you want. You may even add some stations other venue types may not be able to accommodate due to space constraints. 
ADVERTISEMENT - CONTINUE READING BELOW
Cons: You may have to spend more on styling, especially if the warehouse isn't as polished as you may have expected. And since warehouses are not usually used for celebrations like weddings, they may not have some things that one can normally expect from an events place. These items include tables, chairs, accessories, and even lighting equipment, 
9. Church Wedding Venues
Pros: If you grew up attending church and have always held your faith close to your heart, then getting married in a church or chapel is a good option for you. What's good about churches is that they already have most of the things you need for a good ceremony, such as pews, carpets, and even some accessories that can be used to jazz up the place. Finding an officiant won't be a problem, either.
Cons: Usually, churches only allow ceremonies. It means you have to book another venue for your reception. You may also need to arrange transportation for everyone to make sure they can attend the banquet afterward. And, as you know, travel time may be a huge concern, especially if you are getting hitched during a time when traffic is usually bad.
ADVERTISEMENT - CONTINUE READING BELOW
When deciding on your wedding venue, keep in mind that you have a lot of options. Indeed, there's no need for you to limit yourself to the ones you normally see in other people's wedding photos. Feel free to explore and be creative. You may even try some venue types that are not included on this list.
ADVERTISEMENT - CONTINUE READING BELOW
Load More Stories