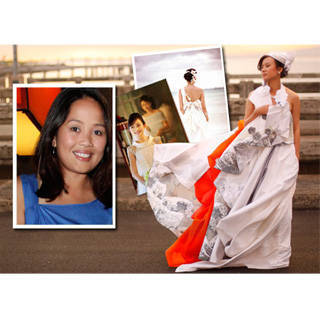 It's no fashion industry secret that Patrice Ramos-Diaz is foremost on the minds of a lot of Manila's prospective brides when they're considering who's best to execute their wedding gown imaginings.

Patrice is well-known for bringing out the beauty of blushing brides on their big day through her well-crafted wedding gowns. Romantic, modern, and intensely feminine, Patrice's design aesthetic embodies all the ideals a woman wants to project on her wedding day.

But while people know Patrice through her more traditional design approach, StyleBible.ph decided to feature one of her more unorthodox brides to emphasize her versatility. Client Lloyda Lim-Tan (one of our featured brides) had an entirely uncommon request for her wedding gown: she wanted it to showcase a digital print instead of the more traditional beadwork that most brides go for. She also wanted it to have an oversized bow train--in orange!

Find out what Patrice has to say about having her as your wedding gown designer.
ADVERTISEMENT - CONTINUE READING BELOW
HOW WOULD YOU DESCRIBE YOUR DESIGN PHILOSOPHY AS A BRIDAL DESIGNER?
My aesthetic leans towards modern-romantic, feminine styles. A flattering silhouette and high quality fabrics are the most important components of the gown, but I also give importance to details to give it that special hand-crafted touch. I also love using lightweight fabric like French lace, piña, silk organza, or tulle.

WHAT IS THE SIGNATURE FLAIR THAT IMMEDIATELY CHARACTERIZES A WEDDING GOWN DONE BY PATRICE RAMOS-DIAZ?
I think it's a combination of all the elements I've just mentioned, but I make sure that each gown is as unique as the individual wearing it.

HOW EARLY BEFORE THE WEDDING DO CLIENTS HAVE TO APPROACH YOU?
A year to 6 months before the wedding.

HOW OFTEN DO YOU HAVE TO MEET/TALK TO CLIENTS REGARDING THEIR WEDDING GOWN DESIGNS?
I allocate a month for the design phase. This entails a series of meetings--first, to discuss the requirements, budget, and details of the wedding (date, venue, etc.) and also to explain the whole process from ordering the gown to the day of the wedding. On the second meeting, the bride confirms the order by giving a 50% downpayment, signs a contract and submits her moodboard. After a week, I submit my first set of studies/sketches. I give brides a few days to appreciate the designs, before sending them back to me with her comments. After this, I refine the concept and submit a number of proposed final designs.
ADVERTISEMENT - CONTINUE READING BELOW
For more insights from Patrice Ramos-Diaz, see the full article on StyleBible.ph .
Comments
Load More Stories