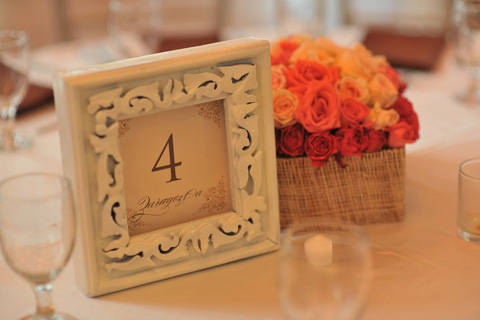 It's usually a good idea to group together guests who share something in common--the same school, for example, or colleagues at work--and so it's acceptable to assign tables to make sure there are no awkward moments.
You can assign numbers to tables, and your caterer can usually provide the signs and stands for these. Or, you can be creative and use names of your favorite places, movies, or books. These provide added point of interest as your guests get to know a little more about you, and make for nifty icebreakers as it may even start a conversation among them.
Whether you choose to mark your tables with words or numbers, make sure your guests find their table easily so that there is no confusion or too much moving about. The last thing you'll want during your wedding reception is a squabble over seats. Use numbers and signs that are big enough to be seen from a distance. As much as possible, keep it simple. Too much design or decor may cause it to blend in with the other decor. Also, it's a good idea to have two sets of numbers per table placed on each side, so guests can spot them no matter what direction they're coming from.

ADVERTISEMENT - CONTINUE READING BELOW
Check out our gallery below for table number ideas.
You might also want to see:
Recommended Videos
Comments
Load More Stories