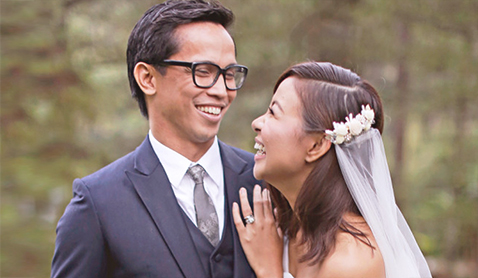 They say love comes when people least expect it. This was true in the case of bossa nova singer Sitti Navarro. "He came at a time when I have almost given up on love and didn't care already whom my friends would set me up with," Sitti shares. The "Is This Love" singer met her husband, triathlete Joey Ramirez, in 2013 through a set-up orchestrated by a common friend. Little did she know that agreeing to the date would mark the beginning of a whirlwind romance that would last a lifetime.

"It was raining the whole week. [Our] first date was dinner and then a movie with friends. [I] didn't think much of him, except that he was clean-looking and nice. He smelled good and was quite talkative." Back then, she had no idea that Joey was already smitten by her. "Apparently, he thought much of me because I laughed uninhibitedly in the cinema (we watched 'The Internship'), and so [he] asked me out again two days later.

"I said yes, and fell in love with him that day."

After a relatively short engagement, the two got married in a Christian and a Catholic ceremony on May 28 and 29, 2015.

Sitti and Joey wanted to celebrate somewhere calm and cool, so they chose Baguio as their location. The first ceremony was held inpaghahanap na nangyari, haha!"
ADVERTISEMENT - CONTINUE READING BELOW
Load More Stories