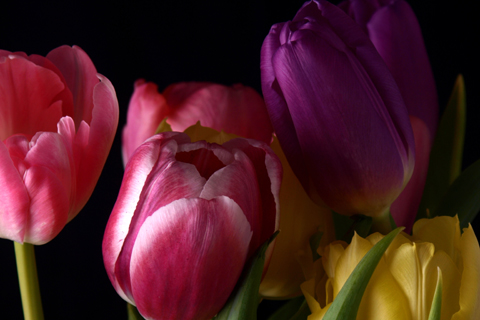 In a tropical country like the Philippines, you might find it difficult to choose flowers for your wedding, especially if the ones you choose are seasonal. If you're getting married in one of the cooler months, however, deciding on your wedding blooms becomes easier, as there are more options available. We've made a list of flowers best suited for this season's weddings.
Cymbidiums 
Cymbidiums are one of the most popular orchids because of their large delicate blooms. These flowers come in white, cream, yellow, red, pink and brown. Cymbidiums do not flower during the warmer months unless subjected to artificial growing conditions. There are locally-grown cymbidiums, and they flower from November 'til March--so they'll be available if you're getting married in the holiday season.

Tulips
Tulips are bulbous plants that produce colorful flowers of many different shades. They come in a range of colors except for pure blue. Tulips are quite delicate and may bruise easily, but when handled properly, they are great for bouquets and décor. Like cymbidiums, tulips do not flower in warm climates--they can only be locally grown in February, and are imported from Holland for the rest of the year.

ADVERTISEMENT - CONTINUE READING BELOW
CONTINUE READING BELOW
Recommended Videos
Poinsettias
Poinsettias--large red blooms with petals that resemble leaves--are the ultimate flowers for holiday weddings. It's no wonder why poinsettias are usually associated with Christmas, they're also called noche buena in some areas. Poinsettias are only available in the cooler months, and if you want to add a festive touch to your wedding, you can try having poinsettia arrangements done.
Peonies
Peonies are fragrant blooms featuring large yet delicate pink petals. Peonies imported from New Zealand are available from December to January, while those imported from the Netherlands are purchasable from May to July--these flowers can't be grown locally so all peonies here are imported.
Amaryllis
Amaryllis blooms are another festive option for the holiday season as the petals are usually white with veins of crimson. Amaryllis can be grown locally, and regularly bloom from January to March.

Consult your florist for other flowers available during the Ber months, like Freesias, Hyacinth, Iris, and Nerine. There are so many choices for you to create the perfect holiday wedding.
ADVERTISEMENT - CONTINUE READING BELOW
To see listings for florists and stylists, click here.
You may also want to check out:
Comments
Load More Stories