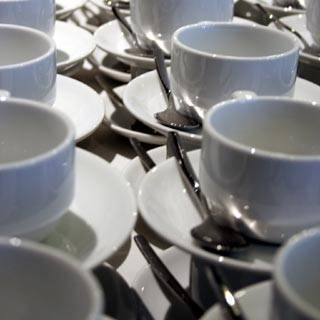 Sharing a hearty meal with your wedding guests is one good way to thank them for being with you on your special day. Your wedding reception allows everyone to enjoy fun festivities and good conversations over food. Before you book a caterer for this important event, remember to ask these questions.
Do they have a set menu? Can you modify the menu?
Most caterers have a set menu--this means that they have a ready menu of appetizers, main courses, desserts, and drinks. Set menus can help you out when you don't know which dishes go together. However, also ask if you can modify the menu so you're sure that you like everything that will be served on the big day. Tell your suppliers if you're working on a tight budget--some caterers will substitute expensive ingredients with more affordable ones so you can stick to your menu.
ADVERTISEMENT - CONTINUE READING BELOW
CONTINUE READING BELOW
Recommended Videos
When can you schedule the food tasting?
Ask your supplier to schedule a food-tasting session, and bring along someone with discerning standards. The food tasting session is the perfect opportunity to comment on the food--and you can ask the caterer to make adjustments with the menu. Caterers put their best foot forward during food tasting sessions, so make sure your supplier will adhere to the same standards come your wedding day.
Can you see photos of set-ups from previous events?
Part of the food's allure is seeing how it's served. Ask your supplier for photos of set-ups they've done--even better if they can show you photos of events they did at the same venue where you'll hold your reception. Photos will allow you to get a clearer picture of the supplier's aesthetic sense.
What is their food service style?
Ask your supplier which food serving style (table service, buffet, or family style) they're comfortable doing. This way, you'll have an idea of how the floor traffic will be on your reception. From your end, inform them of the number of attendees and of elder guests who need assistance.
ADVERTISEMENT - CONTINUE READING BELOW
How many waiters will be at your reception?
Remember to ask about the staff to guest ratio for the reception--this is especially critical if they'll be serving plated meals to your guests. You want to make sure that there are enough waiters to run things efficiently.
When should you provide the final guest count? How much extra food will they prepare for guests who didn't confirm their attendance?
Your caterer will need the final guest count a few days before your wedding--this is so they know how many place settings to prepare. However, your caterer should also prepare for guests who didn't RSVP who might suddenly show up at the reception.
Will they cook at the venue, or will they bring cooked food?
Some suppliers cook the food at the venue, and it isn't a problem if the venue you booked has a kitchen nearby. However, some function halls will require your suppliers to set up a makeshift kitchen. And while your caterers will probably bring their own appliances, you want to make sure that there will be enough workspace for them. On the other hand, if they'll bring cooked food to the venue, check what measures they take to prevent spoilage or contamination.
ADVERTISEMENT - CONTINUE READING BELOW
How will the staff dress on your wedding day?
You want to make sure that the wait staff will look presentable on your reception, so don't hesitate to ask about the waiters' attire. Some caterers will even ask their staff to wear something that matches your color motif.
To see listings for wedding caterers, click here.
You might also want to check:
Comments
Load More Stories