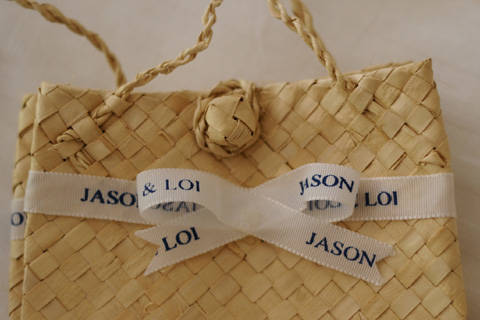 If you're having a destination wedding, guests will go the extra mile--quite literally--just to witness your big day. Traveling isn't easy for everyone, and the least you can do for your guests is to make their stay at the destination as comfortable as possible.
One way to pamper your guests is to give them care packages when they arrive. Putting together a bag of goodies doesn't have to be expensive--just cover the basics so that your guests will feel that their presence is much appreciated. Your destination will determine the essentials for the care package, but below are some suggestions:
Reusable bag


You can stash the essentials in a canvas tote, which is more durable than a paper bag, and more eco-friendly and surely prettier than a plastic bag. Your guests can use the canvas totes as they tour the destination. You may also use local bayongs as an alternative.

Bottled water


Traveling can dehydrate your guests, so include a bottle of water in each care kit to refresh thirsty travelers.
Map and itinerary


Your guests would surely want to explore their destination, especially if it's their first time there. Include a map of the area so your guests can wander on their own (if you didn't arrange for tours). Also include a printout of the itinerary so they know what to expect.
Local treats


Including local treats in the care package is one way to help your guests familiarize themselves with the destination--plus guests can snack on the treats when they've come from a grueling trip.
Toiletries


If you're having a beach wedding, give out small bottles of sunblock lotion so guests can protect themselves from the sun. Tying the knot somewhere cold? A bottle of lotion and lip balm make great favors. Other toiletries you can hand out are soap, shampoo, and insect repellant.
Flip-flops


Your guests will surely want to rest their tired feet after spending hours in transit, and a pair of flip flops will be a comforting treat. Your guests can also bring their flip flops to the reception if they plan to do some serious partying. A tip: If you're giving away flip-flops, have your entourage help you to ask your guests' sizes weeks before the affair.
A notebook/notepad and pen


Traveling can encourage people to be inspired with ideas, and when that happens, your guests would want something to jot notes with. They can also take note of important numbers and other details with these.
For more ideas on care packages, check out the gallery below.
To see listings of suppliers for wedding favors, click here.

You might also like:

Comments
Load More Stories