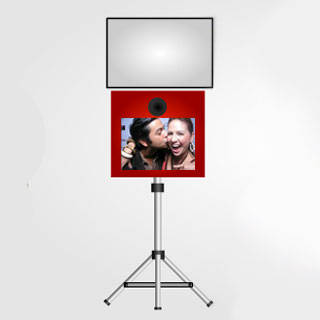 With the popularity of photobooths in special events such as weddings, most photo booth providers offer similar services. However, Geronimo Photographico differentiates itself from the pack with the features of their photo booth.
Geronimo Photographico has packages that start at PhP5,200 (for an hour's use). Their automated photobooth system, manned by one technician, is a sleek yet mean machine.
The live screen allows guests to see themselves in realtime, so they'll have an idea of how the photos will look. The photobooth's height is also adjustable to accommodate guests of different ages. The booth includes a fabric backdrop, studio lights, and props. For bookings of at least two hours, Geronimo Photographico can include an automatic stop time so that clients can maximize the use of the photobooth.
Couples can customize the layout of the 4" x 6" printout to complement their event's theme. They may also opt to avail of standee frames to display their photo.
Not only can guests pose for as many photos as they want, but they can enjoy unlimited prints as well. Geronimo Photographico uses dual printers, which allows for faster printing of photos.
With Geronimo Photographico's unusual photobooth, clients can surely look forward to a more fun and efficient photobooth experience.
Comments
Load More Stories