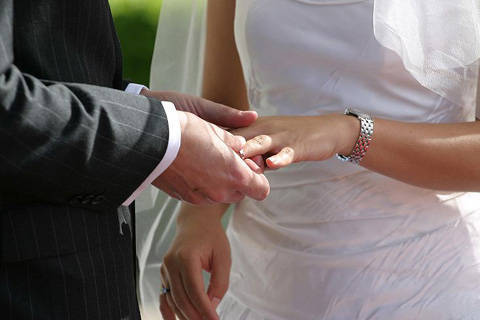 For every occasion, there's at least one superstition that most Pinoys follow. Weddings are one of those occasions where superstitions abound--and whether you're a believer or a cynic, you may have heard at least one of these before. Read on and find out about the small quirks that make your wedding very Pinoy!

Fitting the Dress
They say that the bride should not wear her wedding ensemble before the day of her wedding, or else the wedding won't push through. This one's quite challenging for brides to follow nowadays, since nobody wants an ill-fitting dress on the big day. As a compromise, some gown designers sew a few stitches on the gown on the day of the wedding, so that the dress that the bride had previously fitted can be considered as an unfinished ensemble.

Seating Sequence

Another popular Pinoy wedding superstition is that the groom should not sit before his bride does, or else he would be a henpecked husband. Superstition or not, perhaps the groom shouldn't be the first one to sit, lest that action be considered ungentlemanly.
ADVERTISEMENT - CONTINUE READING BELOW
Dropping the Accessories

One of the most feared Pinoy wedding superstitions is the belief that when the wedding ring, veil or the arrhae falls to the floor, the couple will have bad luck. These unfortunate incidents may not really bring bad luck, but they can cause a slight delay in the ceremony.
CONTINUE READING BELOW
Recommended Videos
Showering the Newlyweds with Rice

A common superstitious practice in Pinoy weddings is the throwing of rice grains to the newlyweds--this practice is believed to bring good luck and prosperity to the couple. There's surely no harm in this, but some couples may think it's just a bit impractical--and wasteful--in these times. Such a practice also needs to be coordinated with the church administration, as some parishes don't allow throwing of rice or petals.

Breaking Glasses

Similar to the practice in Jewish weddings, it is believed that when the couple breaks a glass or a plate on their wedding day, they will have good luck. This one should be practiced with caution--the last thing that anyone wants on their wedding day is an injury from shards of glass.

ADVERTISEMENT - CONTINUE READING BELOW
There are many other Pinoy wedding superstitions which generally attempt to foretell how your married life will turn out. And while there's no harm in trying or believing these wedding superstitions, remember that you still shouldn't let them dictate the mood of your wedding and marriage.
You might also want to check:
Load More Stories