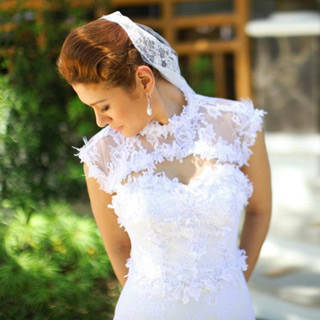 When 31-year-old Kathryn Eckstein got engaged to Filipino-Canadian saxophonist Alvin Cornista, she knew what she wanted: fun. "Designing your wedding dress should be fun; it was the one thing I looked forward to since collaborating with Michi was the only part in the wedding planning that was stress-free. We were just two women talking about fashion and life. She's such a pro and led me through a system that was organized and thoughtful." After that first talk, Michi broke out a bottle of Prosecco to seal the deal. "The toast was an added bonus to an already great start!" So what did she think of the finished gown? "I was moved to tears. It was more gorgeous than I imagined. Michi listened to my ideas and made them her own. She's an artistic genius. The trust I put in her abilities resulted in a friendship that I wish other future brides would have with their designers."
ADVERTISEMENT - CONTINUE READING BELOW
"My gown was absolutely perfect for my wedding in France"
Michi's online presence has made her a hit with brides based outside the Philippines as well. When Angélique Davesne wed Laurent Collet last December, she wore a Michi Calica-Sotto original. "I wanted something vintage and comfortable with a touch of glamour," says the 31-year-old bride, who married her first love in Villevenard, a charming little village in the East of France. She searched online and found Michi's Etsy store, where she fell in love with a particular style. "It was absolutely perfect. Really smart but also French and modern. I knew it was The One." Michi added a belt made just for Angélique, who accessorized with a white fur coat on her shoulder. "When my sister saw me, she said: 'You look like Snow White, like a snow princess.' It was the most beautiful dress for the most beautiful day of my life. I'm glad I found Michi. She's the best designer."
ADVERTISEMENT - CONTINUE READING BELOW
"Michi went beyond The Gown, and styled my overall look."
For her Travel-meets-Modern Victorian-themed wedding to Darell Ordoñez in December, Paula Angela Mendoza-Ordoñez wanted a modern bridal gown that was a great departure from the conventional wedding dress. "Michi exceeded my expectations and really provided me with something out of the ordinary. Because of her exquisite taste, I consulted her on everything. Her vision for me was to look sophisticated without showing too much skin, and to complete my ensemble with simple accessories." The result was magical for the 27-year-old. "I felt so blessed and honored. Michi made me feel like I was the most beautiful bride in the world. With her taste, you can never go wrong. I felt so much pride each time people came up to me and said, 'Michi Calica is your designer? No wonder your wedding dress is so fabulous!'"
To see how Michi crafts wonderful designs for her brides, check out the video below.
ADVERTISEMENT - CONTINUE READING BELOW