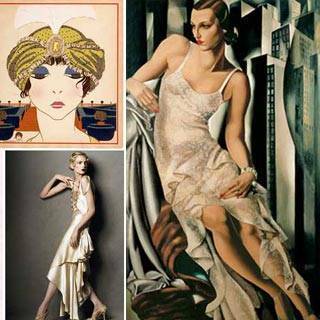 I tend to find inspiration in photos and films, and, as The Groom will tell you, I'm extremely vulnerable to the power of suggestion and anything that piques my curiosity. I like the idea of things being cinematic. (I'm hoping that thinking this way will translate into beautiful photos and video on the wedding day.)
Originally, I wanted a roaring '20s theme, especially after seeing this Cartier video by Olivier Dahan called "Jeu de Seduction" (translates to "A Game of Seduction").

Isn't the scene absolutely thrilling!
Ok, maybe it's not typically demure and bridal but her dress, hair, and jewelry were stunning! (I suppose it helps that she's gorgeous and she's trying to seduce such a dapper looking gentleman.)
This, and a number of weekends spent watching episodes of ITV's production of Agatha Christie's Poirot, convinced me that I NEEDED to have a '20s-'30s themed wedding.
ADVERTISEMENT - CONTINUE READING BELOW
I researched on flapper dresses, Art Deco jewelry, and let myself fall in love with the opulence of the era.

However, it became particularly difficult to find a wedding venue that really fit the theme. The Groom and I viewed eight wedding venues the weekend after we got engaged and none of them fit the bill. (More on that later.)
ADVERTISEMENT - CONTINUE READING BELOW
When we finally found a place we both agreed we liked, I realized that it was more clean, white, and Hamptons-y than opulent, rich, and '20s.

Lesson 1: Know when it's time to let go of a theme and move on to something new. It's like going on a trip to a destination that's different from what you originally planned. It's no less exciting than the first idea and you can certainly make it just as wonderful.
ADVERTISEMENT - CONTINUE READING BELOW
So the new movie in my head is the film made by Americana Cinema of the wedding of Coco Rocha and James Conran.