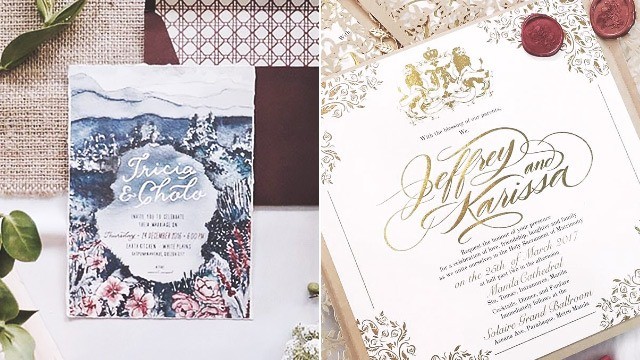 Weddings are intimate affairs. They are about the union of two people who choose to share and celebrate their special day with their loved ones.
Incorporating beautiful, hand-written elements into your your invites, place cards, and even your venue decor is one way to keep things personal and convey that sense of intimacy with your friends and family. A great calligrapher can really do wonders to make your wedding set-up uniquely you. Scroll through some of the amazing work of twelve local "type artistes" below to see what we mean.
1. Fozzy Castro-Dayrit (@thefozzybook)
Depending on your wedding theme, Fozzy can go elegant and classic or more free-spirited with your save-the-dates and invitations.
Looking to collaborate with her for your wedding needs? Message her through thefozzybook@gmail.com.

2. Oats Tiu (@oatsdiy)
Oats likes to do a lot of brushwork and even does wood signages that you can put up all over the venue. Oh, and she actually did calligraphy work for Vic Sotto and Pauleen Luna's wedding invitations, in case you don't know.

E-mail her at oatsdiy@yahoo.com for any and all inquiries.

3. Pearl Choco (@littlegirlwanders)
Pearl, also known as Snapperdoodles, typically does more pop art animated works, but she has a way of balancing her love for colors and illustrations to suit your style.
For commissions, e-mail her at snapp3rdoodles@gmail.com or give her a ring at 0925-784-4267.
4. Fran Postor-Cruz (@primpandpaper)
Simple yet sophisticated is what Fran is all about. Her monogram works are super pretty, and as a recent bride herself, she, of course, designed her own invitation suite.
ADVERTISEMENT - CONTINUE READING BELOW
You can contact her via e-mail at franpostor@gmail.com or through mobile at 0917-501-3726.
5. Lai Reyes-Geluz (@laigeluz)
Calligraphy, watercolor art, and even paper cutting—name it and Lai does it. She can take care of your invitations, custom cake topper, and even little favors and trinkets for your guests.

Get in touch with her via her website (where you can browse through more of her work and the different services she's offering, btw!) or by shooting her an e-mail at madebylai@gmail.com.
6. Joannie Candi (@joanniecandi)
Joannie brings together calligraphy and watercolor beautifully and has even tried her hand at painting gowns.

Interested in her work? E-mail her at joanniecandi@gmail.com.
7. Ink Scribbler (@inkscribbler)
Ink Scribbler is actually composed of a team of creatives. Started by Alexis Ventura, one of their first major projects was Iya and Drew Arellano's wedding invitation suite. Their client list also includes Heart and Chiz Escudero and Ruffa Mae Quinto.

Contact them through e-mail at hello@inkscribbler.com or by dialling 721-67-51.
8. Val Martin (@viannmartin)
Those flourishes and laurels! Need we say more?
Send her your inquiries over at viannmartin@gmail.com.
9. Alessandra Lanot (@lifeafterbreakfastph)
Patterns and prints, colors and black and white, paper and fabric? This Young Star-featured artist can work with it!

Get in touch with Alessa through workshops@lifeafterbreakfast.ph.
10. Rachell Araja-de Luna (@theartistscientist)
Rachell has some beautiful ready-made invitation designs, but she also offers a premium wedding design package for Php12, 500. This includes customized monograms, calligraphed invitations, hand-illustrated location maps, and a wedding website for RSVPs.
Check out full details of her package offering at www.fitforfairytales.com/invitation-design/. You can send inquiries to hello@fitforfairytales.com or theartistscientist@gmail.com.
11. Mica Samar (@mica_s)
Mica's calligraphy + floral work is sure to make every girly-girl's heart flutter. Her designs are simple, clean, and elegant. She also does watercolor prints on canvas, which you can totally customize for your wedding favors.
ADVERTISEMENT - CONTINUE READING BELOW
Message her at micacsamar@gmail.com to know more about her services.
12. PaperThread Studio (@paperthreadstudio)
As a design and print firm, PaperThread Studio offers invitation templates, but are open for custom designs as well. Their animated wedding characters are super adorable!

Shoot them an e-mail at paperthreadstudio@gmail.com or ring them up at 0977-817-9280 for inquiries.
Load More Stories