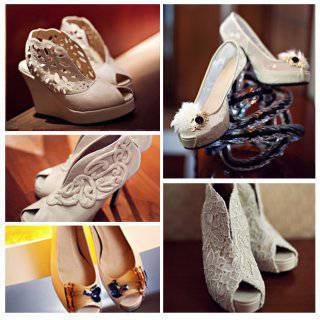 Aside from a lovely gown, a bride also needs the perfect pair of shoes to complete her look. While there are a lot of ready-to-wear shoes available in the market, a pair of custom-made shoes that match one's personality, wedding gown, and theme can make the bride's ensemble even more special. Recognizing brides' longing for special bridal shoes, wedding gown designer Joe San Antonio launched a shoe collection to showcase her new service of making custom-made bridal shoes.

Inspired by things out of the ordinary, Joe's new shoe collection features high-fashion designs with a bridal touch. The chic shoes are made of exquisite materials, such as fabrics used in wedding gowns. Each pair exhibits a mix of contemporary and dramatic details that channel Joe's signature style as a designer. Aside from developing a unique style, Joe also made sure that her shoes are comfortable to wear. She chose soft materials, such as leatherette and lace, and incorporated a cushion in the sole to make the shoes easy-to-wear, especially for brides who have no time to break in a new pair of shoes.

Joe requires one to two months lead time for custom-made shoes. When designing shoes, Joe considers the bride's gown and the theme of the wedding, and she suggests materials that will suit their style best.

Browse through our gallery below to see Joe's new shoe collection.

Click here to know more about Joe San Antonio's custom-made shoes.
Comments
Load More Stories