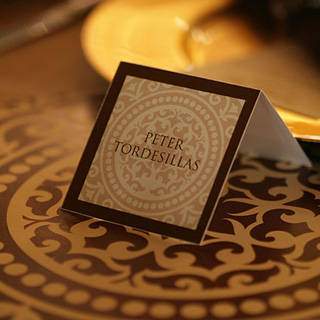 To add a unique touch to the wedding, some couples opt to incorporate patterns into various wedding details. Often used in invites, menu cards, linen, and cakes, patterns exhibit the distinct character that a couple wants their wedding to have.
Some of the most commonly used prints and patterns are damask, paisley, swirls, and stripes. They can come in different color schemes to make details more personalized. With the slew of possibilities couples can come up with using patterns, we asked Ernest Pascual of Bespoke Manila to share tips on how to properly incorporate patterns into wedding details.
Use patterns sparingly.
"[Using patterns on everything] is the common mistake of couples," Ernest asserts. To avoid overdoing patterns, determine first which elements you would like to highlight, and then dress up those elements in patterns. By doing so, you help your guests focus on the details that are important in the story you are sharing at your wedding. Mixing patterned and plain elements also keeps your details from becoming overwhelming.
ADVERTISEMENT - CONTINUE READING BELOW
Mix and match.
Using a pattern doesn't mean that the orientation or layout has to be the same in all elements. Ernest suggests "[Try] changing the orientation, inverting the pattern, cropping, using the mirror image of the pattern, or simply rotating the pattern [to create variety]." Another way to add interest is to mix small and large prints. This way, you're introducing texture to your details, but everything is still in cohesion.
Draw inspiration from fabrics, nature, and graphic elements.
There are patterns that are often used in weddings that tend to be overlooked. To have wedding elements that are aesthetically interesting, and create a lasting impression, Ernest suggests drawing inspiration from fabrics, nature, and graphics. His personal favorites for weddings are are swirls, lace, botanicals, dots, and stripes.
Comments
Load More Stories