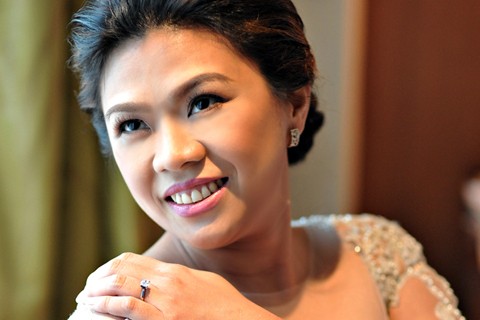 To be able to wear that bridal glow on your wedding day, you need to pay extra attention to skincare even before the wedding. Makeup artist Bianca Uy shares her tips to help you achieve flawless skin in time for the big day.

1. Adopt a skincare regimen
Radiant and glowing skin does not happen overnight. You need to build and maintain your own beauty months before the wedding to see and feel the results. Skincare routines and monthly facials help keep the skin flawless and healthy. Facials should be done regularly at least six months before the wedding. Bianca Uy advises brides to start early so they can see what works and what doesn't for them specifically.

The most basic beauty regimen is CMT or Cleanse, Tone and Moisturize. These three steps are essential to keeping that youthful glow. Cleanser helps rid skin of leftover dirt and keeps pimples at bay. Toner removes deep-seated impurities and tightens pores. And moisturizer works as the guard against aging. It also makes skin softer and smoother.

2. Stick to tried and tested products
Since everyone's skin is different, finding the right beauty products can be challenging. Bianca shares, "Not all products are made to work on everyone. Usually, the process will be a trial and error method wherein you will buy products and try them on for the duration that you were told they would take effect. But if nothing happens, then you have to find something else. When you find the perfect products for your skin type, don't experiment anymore."

ADVERTISEMENT - CONTINUE READING BELOW
She adds that trying new products like a facial mask or cleanser a day before the wedding is an absolute no-no. "Only apply beauty products that you have been using. Never put on new products days before your wedding. You wouldn't want to risk having bad skin on your big day.

3. Have an emergency make-up stash on the big day
During the wedding, makeup artists may not always be around when you need them to be--so you should be equipped and ready for emergency touch-ups. The must-haves for every bridal bag include a mirror, lipstick, tissue and oil blotting film or powder. Makeup may fade, smudge or become oily after a few hours, so it's important to have all these handy.

Bianca also insists that you bring a camera phone with you at all times to able to document all the special moments leading up to the "I Do's" from a bride's point of view.

4. Pamper yourself
Aside from being one of the leading causes of many illnesses, stress definitely shows on our faces and makes for a tired-looking bride. This is why finding the time to relax and unwind before the wedding is crucial for every bride-to-be. Whether it's a massage, a trip to the salon or just a quiet afternoon alone, having a relaxed mind can do wonders for the skin and well-being.
5. Rest and don't forget to hydrate
The simplest advice is often the best. Brides should never underestimate the power of a good night's rest and drinking lots of water. Bianca shares that getting enough sleep coupled with proper hydration will guarantee a fresher looking face and help get rid of those dark circles.
ADVERTISEMENT - CONTINUE READING BELOW
To learn more about Bianca Uy and her makeup services, click here.

Comments
Load More Stories