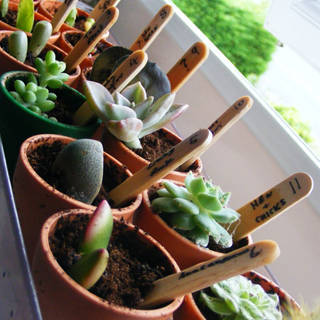 Your wedding is one of the most special days of your life, and for sure, you want everything to be perfect. While it's understandable that you want impeccable details at your wedding, pulling off a beautiful affair doesn't mean that you have to be wasteful. Think of hosting a green wedding--below are some tips for going green without having to sacrifice your style and budget.
Reception Venue
Save on electricity by having a day reception outdoors. The sun will provide natural light so you don't have to use additional lighting, plus your guests can enjoy the fresh air and the picturesque view. Another plus for outdoor affairs? Your photos will look even more beautiful with the abundance of natural light.
Gardens such as Antipolo's Jardin de Miramar, Tagaytay's HillCreek Gardens or Quezon City's Fernwood Gardens are some of the charming options for your venue. If you're worried about the probability of rain, you can inquire about tent provisions. You can also explore celebrating at a glass-covered pavilion that lets natural light in. Holding your ceremony and reception in one venue can also help you and your guests save on gas.
Stationery
If you want to save on paper, one option is to send out e-vites to your guests. You can also create your own wedsite to update your guests on news about your wedding. In case you still prefer paper invitations (since some of your elderly guests might not have email), you can have those printed on recycled paper, such as wildflower seeded paper.
ADVERTISEMENT - CONTINUE READING BELOW
Flowers
Sometimes, using flowers as décor isn't as eco-friendly as you think. If you'll be shipping your flowers from the province or some other faraway place, there's a huge possibility that farmers will spray the blooms with chemicals to make them last longer. Moreover, shipping the flowers would mean that fuel would be used to transport them. A good option is to choose a local flower market to provide you with your wedding flowers. You may also go for potted centerpieces that can double as a giveaways when the party is over. Another thing you can try is to craft artificial flowers from inexpensive fabric or recycled paper--this can be a great bonding activity with your entourage prior to the big day.
Wedding Dress
Going green does not mean wearing paper dresses, and it surely doesn't mean sacrificing your style. Your mom's wedding dress can be your something borrowed--you can just ask your seamstress to make the necessary alterations to update the dress' style and size. Vintage shops online can also be your source for pre-owned wedding dresses. However, if you'd rather wear a brand new dress, look for a designer who uses local raw materials or sustainable fabrics like organic cotton or silk. As you choose ensembles for your entourage, opt for dresses that can be worn over and over again. You can ask your entourage to select their own dress to make sure they'll wear it after your event.
Favors
Thinking of a perfect parting gift for your guests can be a challenge, since you want something that your guests can really use. Edible favors, especially locally grown produce, make yummy favors--and since these don't need to be shipped, they can help you save up on gas, too. Another option is to give away homemade treats packaged in jars that your guests can easily reuse. Skip the monogrammed tags and reduce packaging with non-biodegradable materials like plastic. Seed packets or plants are also great memorabilia for your event, since these encourage guests to start their own--albeit small--garden.
ADVERTISEMENT - CONTINUE READING BELOW
You might also want to check:

Comments
Load More Stories