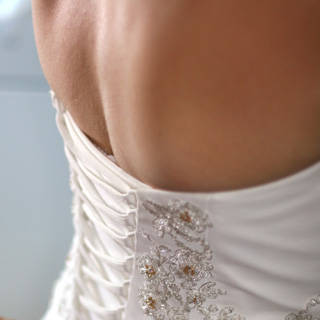 Your bridal glow will be even more breathtaking if you've got flawless, healthy skin on the big day. While you probably already have a facial regimen to keep your face blemish-free, the same may not hold true for the skin on your back. You might want to don a backless wedding dress, but some stubborn blemishes might be stopping you. So how do you get rid of bacne?
Mariel's answer:
If you're suffering from a bad case of acne on the back--a.k.a. bacne--and it's still a few months away before the wedding, nip it in the bud the easy way by heading straight to the derma. A reputable one can recommend a prescription-strength product that you won't find in stores. If the expense isn't an option right now, beauty counters are your next best bet. Check out the anti-blemish lines of Clinique, Dermalogica, and Murad, which promise to clear up skin with a cocktail of at least one of these zit-targeting ingredients: salicylic acid, retinol, and triclosan. Try Clinique Acne Solutions Cleansing Bar for Face and Body, Murad Clarifying Body Spray, or Dermalogica Skin Clearing Wash. Resist the temptation to over-cleanse and scrub; instead, try regular exfoliation using a gentle bath puff.
ADVERTISEMENT - CONTINUE READING BELOW
Now's the time to also look out for comedone-causing culprits. You'll be surprised to find them in the most unassuming places and products: dirty bedsheets, the detergent you wash them in, your fiancé's hair and skincare products (when he kisses your back or touches it), your office chair (make a schedule to have it professionally cleaned), and public transportation (wear a cardigan washed in gentle laundry detergent (the type used for baby items) en route to your destination).
Another acne aggravator? Stress! Avoid it as best you can. Try breathing exercises, or even yoga or a dance class. The exercise boosts health while the sweat you generate helps 'clear up' the skin on your back (plus, you'll enjoy a natural glow on your face!). Enjoy your upcoming big day!"
About Mariel Chua:
Mariel Chua is a former beauty editor of Seventeen, Cosmopolitan, and Ok! Magazine Philippines. She also dabbles in makeup artistry and is now based in New York, working as a writer and editor for Studio One Networks and as a copywriter for a boutique beauty brand. Her column, "Beauty Rx," comes out every Friday in the Philippine Daily Inquirer. Visit Mariel's blog at http://NyMinuteNow.com.
Load More Stories