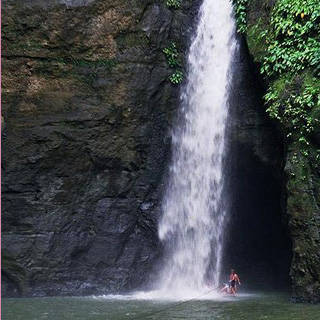 When your wedding ceremony is over, you're ready to take off and begin the next chapter of your life with a romantic honeymoon. If you don't--or can't--travel far, there's no need to endure long trips--here are just a few destinations to choose from near Manila.
Tagaytay (2 hours from Manila)
It probably comes as no surprise that Tagaytay makes it to many a list of honeymoon destinations. Tagaytay is practically a stone's throw away from the city and getting there is a breeze--certainly an attractive feature if you and your hubby tend to get bored with bumpy roads or long flights. Add to that a considerably cooler climate, charming hole-in-the-wall restaurants, and a good selection of  boutique hotels, and you have an ideal venue for a quick romantic rendezvous. Tagaytay Highlands offers prime accommodations while Sonya's Garden gives couples with a homier atmosphere with its bed and breakfast and restaurant.
There's no doubt that the biggest draw of Tagaytay for honeymooners is the breathtaking view of Taal Volcano. Considered one of the country's most famous natural landmarks, the volcano uniquely situated at the center of a lake provides a perfect backdrop for great honeymoon shots.
Laguna (2 hours from Manila)
With its fair share of beautiful historical churches, Laguna is a popular spot to hold weddings. A lesser-known fact is that this rustic province is also a promising destination for a honeymoon. Merely a few hours drive from Manila, Laguna features a delightful series of mountains and lakes--great settings that make for a nature-inspired romantic honeymoon escape. Hot springs dot Laguna, and scenic spots like the Pagsanjan Falls draw tourists. More recently, bed and breakfasts have also been established in the area. Casa San Pablo has been getting rave reviews for its laidback ambiance that's similar to Baguio, while Villa Socorro in Pagsanjan is a great option for nature lovers.
With Laguna's hot springs and delightful dishes, you have possibilities that are as varied as you'd like them to be. 
Baguio (6 hours from Manila)
It's not hard to imagine Baguio as one of those places that practically everyone has fond memories of. Dubbed the summer capital of the Philippines, it attracts people from all walks of life--hordes of children on school outings, families and friends on reunions, and yes, even couples on their honeymoon. And why not? Baguio has a lot to offer the romantic soul on a blissful honeymoon trip: from the fantastic cliffside views of Mines View Park and pleasant churches like Baguio Cathedral, to restaurants with eclectic cuisine like Café by the Ruins and gorgeous parks like Burnham Park.

It also has accommodations to suit all sorts of budgets, from the luxurious--like The Manor Hotel in Camp John Hay-- to the downright practical, like Inn Rocio. Most importantly, Baguio just has a natural charm to it, something that casts a spell of romance on your honeymoon.
Photo source: commons.wikimedia.org (Photo 1: Zuanzuanfuwa; Photo 2: GFHund; Photo 3: unavailable)

Comments
Load More Stories