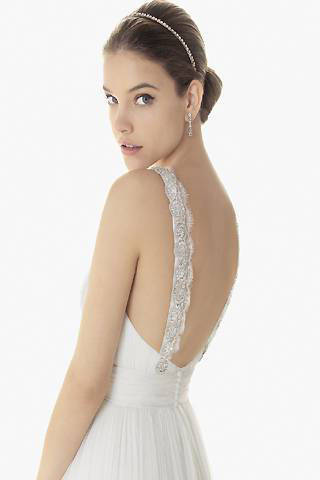 It was a busy yet merry month of June for the team, as we continued our efforts of bringing brides and suppliers together. And just like the downpour these days, our BridalBook family is also continually showered with the support of more suppliers who also wish to bring dream weddings to life.
Browse through our list of new wedding suppliers below--you might just find the supplier you are looking for.
Weddding Gowns

With the opening of Rosa Clara, one of the most sought-after ready-to-wear bridal gown brands, Pinay brides now have the opportunity to look and feel like royalty on their big day. Known for their romantic wedding gowns, Rosa Clara will surely give Pinay brides an easier time finding the wedding gown of their dreams.
ADVERTISEMENT - CONTINUE READING BELOW

Makeup
Rea Pinpin: Makeup Stylist
With extensive training in professional makeup artistry, Rea has mastered the craft of making brides look their best on their wedding day. Aside from doing bridal makeup, Rea also specializes in fashion, avant garde, and high definition makeup. Her wide scope of makeup expertise makes her ideal for themed prenup shoots.
Make Up by Ann Perez
After honing her skills in several reputable makeup schools, Ann now specializes in traditional, high definition, and airbrush makeup for weddings, prenup shoots, and other special events.
Diana Santos, Airbrush Makeup Artist
Also a professional model, Diana Santos is well-entrenched in the beauty industry, and knows how to give brides the look they want for their wedding day. By constantly updating her skills and makeup products, Diana gives her brides quality service.
Hair and Makeup By Nadine
Nadine's love for makeup started at a young age. Considering her passion as a form of self-expression, Nadine gives her brides both sense of style and originality.
ADVERTISEMENT - CONTINUE READING BELOW
Wedding Rings
New Life Jewelry
New Life Jewelry is known for high-quality, custom-made, handcrafted jewelry in 14k or 18k gold settings and ornamented with precious or semi-precious stones. With over 50 years of experience in the business, New Life has gained the reputation of being one of the most trusted local manufacturers and suppliers of world-class jewelry.
Wedding Coordinators
Gen Lee Events
This team of wedding coordinators presents themselves as "friends and partners for perfect beginnings." Having been in the business since 2006, Gen Lee Events has gained enough experience to make dream weddings come to life.

Flowers
Green Rose
Green Rose was established in 2000 by Rhodora B. Trinidad, who had always loved flowers. Green Rose has steadily become a supplier of imported fresh flowers to different parts of the country.

Photography
CamZar Photography
This husband-and-wife tandem offers wedding photos that are clean, sharp, and filled with emotion. In covering weddings, they aim to preserve memories in full color, and share the "magic" that captivates them.
ADVERTISEMENT - CONTINUE READING BELOW

R.A.W-Really Awesome Weddings
This group of young photographers boasts a style that is contemporary with a classic touch. When shooting, they make sure to keep things real, comfortable, personal, and professional. "We go back to the core concept of photography as an art form, a means to connect, [and] a medium to evoke emotions," says the team.
ADVERTISEMENT - CONTINUE READING BELOW

Benjie Tiongco Photography
For every wedding he covers, Benjie lets moments unfold naturally. With his relaxed and unobtrusive approach, he captures timeless moments, and turns them to modern and chic wedding photos that will last a lifetime.

Rule of Thirds by Jr Salonga
Jr Salonga best describes his photography as a showcase of passion, creativity, and technology. He promises to capture important moments, including candid shots that reveal real emotions.
ADVERTISEMENT - CONTINUE READING BELOW

Ruffa and Mike Photography
Inspired by love and life, this husband-and-wife photography team are committed to create stylish, modern, and fine art imagery. With a trendy and photojournalistic style, Ruffa and Mike do their best to capture priceless moments that will last a lifetime.
ADVERTISEMENT - CONTINUE READING BELOW

Joel de Guzman Photography
Specializing in creating romantic images, Joel de Guzman aims to provide marrying couples a collection of images that will recount the emotions on their wedding day. For him, his goal is to have a couple's love story told beautifully.
Videography
Cinemaworks by John De Guzman
Headed by John Marvi de Guzman, Cinemaworks is a team of creative videographers who aims to constantly make masterpieces out of wedding videos.
Notion in Motion
With a team that has long been in the wedding industry, Notion in Motion has mastered the craft of unraveling the little wonders in special life events, such as weddings.

Venues
Hyatt Hotel and Casino Manila
This five-star deluxe landmark hotel is located at the heart of Manila's business and shopping centers, making it one of the sought-after wedding venues in the district. Overlooking Manila Bay, its location provides an enchanting city view.
ADVERTISEMENT - CONTINUE READING BELOW

Hotel Elizabeth-Baguio
This Mediterranean-inspired boutique hotel offers five-star service at three-star rates. Designed by Tessa Prieto Valdes, the hotel presents a charming character that is ideal for weddings.

Hotel Elizabeth-Cebu
Hotel Elizabeth-Cebu is one of the newest hotels in the business district of Cebu. It houses a ballroom and function rooms that are ideal for special occasions such as weddings.
ADVERTISEMENT - CONTINUE READING BELOW

Dusit Thani
Found at the heart of Makati, Dusit Thani Manila is one of the favorite wedding venues in the city. Inspired by a mythical utopian town that offers a taste of heaven on earth, the hotel presents a refreshing elegant ambiance that is perfect for weddings.
Catering
CVJ Food Catering
Founded by sisters Joanne M. Justo-Abella and Jennifer M. Justo-King, CVJ Catering builds on their thrust of providing food that is "seasoned to perfection and served in style." Aside from serving remarkable dishes, CVJ also provides a venue for receptions located in Marikina, which is called CVJ Clubhouse.
ADVERTISEMENT - CONTINUE READING BELOW

Wedding Cakes
Sweetbox Specialty Cakes
Seeing a wedding cake as more than just dessert, Sweetbox Specialty Cakes creates cakes that are a blend of vision and flavor. Be it a classic or modern cake, Sweetbox can make one in any style, shape, or color.
ADVERTISEMENT - CONTINUE READING BELOW
Party Needs
Aceron Digital Photography
Aceron Digital Photography provides a variety of party needs to make an event more memorable. They offer photo booth rental, photo and video coverage, face painting services, projector rental, and lights and sounds system rental.
We're already halfway through the year, but we still have a lot more exciting news and surprises in store for you! Keep watching this space for updates.
Love,
The BridalBook Team

Comments
Load More Stories