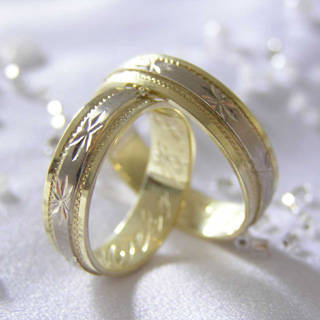 There's more to picking out wedding rings than choosing a color. You'll want to consider how comfortable the ring will feel on your finger, which can be affected by the weight of the metal, and whether the material is hypoallergenic. Another important factor should be the durability of the metal, as you'll want your rings to last. Find out more about these popular wedding ring metals to help you decide which kind of metal will be appropriate for your own wedding bands.
Platinum
Of all the popular wedding ring metals, platinum is the most expensive of the lot. It's as fashionable as it is hard wearing. While platinum is more durable than gold, it is also heavier, which you will want to consider, given that you'll be wearing your wedding ring every day for the rest of your life. Despite its weight, the good thing about platinum is that it's also hypoallergenic.
Gold
A favorite jewelry metal for centuries, gold is considered a pure metal. Its malleability makes it easy to mold into different forms. Gold is a durable metal, which makes it ideal for everyday wear. It is also available in a variety of colors, though white gold, yellow gold, and rose gold are the most common choices for wedding rings.
Palladium
A great alternative to platinum, palladium belongs in the platinum family of metals, but is much more affordable. It is whiter than platinum or white gold.  It is a lighter metal (like silver), but palladium can be worn every day (unlike silver, which isn't recommended for daily use). Palladium rings are also comfortable to wear.
Titanium
If durability and comfort are at the top of your list for picking out a wedding ring, then you might want to consider titanium rings. Titanium is the hardest natural metal in the world, making it less prone to dents and scratches than any other metals. It is also hypoallergenic and comes in a variety of colors. However, titanium cannot be soldered-this means that once you have titanium rings made, you cannot have them resized.
Weigh out the pros and cons of the different metals before choosing one for your wedding ring. Always keep your comfort (as well as you groom's) in mind and remember that you'll be wearing your wedding ring everyday for the rest of your life together.
Comments
Load More Stories