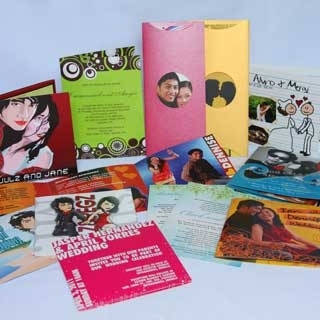 Invitations serve as teasers to weddings. Their design and layout--ideally--show the couple's personality and give the guests a feel of how the wedding will be. This is why couples try to find a set of invites that can already speak volumes about their much-awaited day.
While there are a lot of invitation printers out there, there are only a few that can adjust to every couple's unique request. Most wedding invitation printers offer designs that fall under the simple, traditional, or classic category and have limited templates or design options. Wanting to break free from this norm, Wingdingz's Sales and Marketing Manager Denise de Pano-Avila got the inspiration to create an invitation printing house that produced alternative, one-of-a-kind designs under their printing company, Design Plus. Thus, Wingdingz was born.
Unlike other invitation printers, Wingdingz offers soon-to-wed couples the luxury of choosing a unique invitation design from a 2,500-strong catalogue. Their designs range from popular movies such as Titanic and Twilight to well-known cartoon characters and superheroes like Superman. The company's modern, creative designs make their products look more like glossy teasers or posters than the usual wedding invites. Such playfulness, Denise says, caters to budget-conscious young couples who want to express themselves.
ADVERTISEMENT - CONTINUE READING BELOW
In addition to their rich design catalogue, Wingdingz also gives their clients the freedom to tweak their invites infinitely until they get what they want. This means that they are given unlimited chances of editing their invites-an opportunity that not all printers give their clients.
Coming from a 25-year-old printing studio called Design Plus, Wingdingz prints their own invitations through digital offset printing. This process makes Wingdingz invitations more affordable compared to the other invitations. Unlike other invitation makers who outsource the printing of the invites (resulting in higher prices), Wingdingz has its own set of machines that makes work efficient. And because the process is faster, the couple can hand out invites to guests earlier. Because of this edge, Wingdingz has become one of the most sought after invitation printers since their launch in March 2010.
In such a short span of time, Wingdingz has proven that it can excel in the competitive wedding industry. With their innovative spirit, Wingdingz is sure to come up with more exciting, promising choices for soon-to-weds.
ADVERTISEMENT - CONTINUE READING BELOW
Comments
Load More Stories