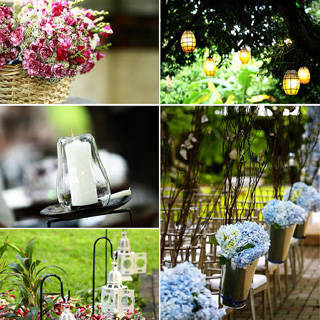 A garden wedding offers a less formal environment than an indoor space, and it is this laid-back feel that appeals to couples looking for peace and tranquility The relaxed organic elements of the natural environment, the elegance of well-manicured lawns, the fresh air, and the freedom all evoke romantic bliss and exclusivity--essentials that appeal to many couples. 
Nowadays, Antipolo--being one of the major suburbs just outside of Metro Manila--is one destination that is becoming popular for outdoor weddings. Wedding venues in Antipolo sit on vast lands amidst lush hills, fertile land, and a majestic view of the metropolis at night. The Mango Farm, a 2.5-hectare estate comprised mostly of stately mango trees (hence the name) is located in the old-fashioned village of Kingsville Court, Antipolo. This rural romantic spot is perfect for those yearning for a rustic, intimate, personal and elegant wedding.
The Mango Farm started out as a weekend restaurant. The positive responses and constant inquiries from guests prompted Mike Santos, The Mango Farm's General Manager, to officially open it on January 2005 as an events venue. "It is not difficult to fall in love with this place," Dylan Gozum, the farm's Operations Manager, relates. "The more than 180 mango trees, bowed by the winds of Antipolo, have been silent witnesses to so many events already." 
ADVERTISEMENT - CONTINUE READING BELOW
The Mango Farm's increasing number of satisfied couples can attest to the establishment's unique appeal. "Couples book the venue because they share our love for nature, for the things we urbanites miss like trees, real grass, and fresh air," Dylan Gozum shares. It also helps that couples who book the farm are encouraged to make their respective weddings different. "We appeal to couples who put a premium on exclusivity, as well as those who need the space for their ideas," Dylan adds. "The farm is their canvas. It nurtures great wedding ideas." Indeed, the sprawling farm inside a subdivision honors a one-event-at-a-time policy, making each celebration as exclusive as it can get.
The farm has five different areas. The outdoor spaces are Azotea Rojo, a patio paved with Vigan tiles leading to an open grass garden; La Carmen, another Vigan-tiled patio with two gazebos; Plaza Gat Tayaw, a a brick-paved plaza abounded by four tall, shady mango trees in every corner; and Avenida, an avenue of mango trees usually used for large garden weddings. The air-conditioned 250-seater Glass Pavilion, The Mango Farm's only enclosed space, has a ledge for musicians, a balcony for guests to enjoy the evening lights, and an 80-meter stone bridge that offers a picturesque view overlooking the farm. The area fronting the Pavilion, a sunken garden, is also used for a 500-guest garden wedding or reception. Each area can accommodate large or intimate gatherings, and booked couples can hold their wedding ceremony, cocktails and reception separately. There are also nearby churches which include the newly built St. Therese of the Child Jesus, Christ the King, and Our Lady of the Pentecost.
ADVERTISEMENT - CONTINUE READING BELOW
Sublime visuals, a verdant sanctuary to various flora and fauna, exclusivity, and service that is assuring, comforting and personal are things that couples can expect from The Mango Farm. As Dylan Gozum puts it, "There is nothing like it in all of Manila. It is a venue that breathes peace and quiet we city people are still lucky to enjoy in this day and age."
Click here to see The Mango Farm's wedding packages and photos.

Comments
Load More Stories