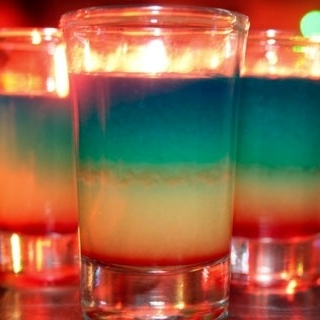 Mobile bars are gaining popularity in the local wedding scene for the added merriment they provide to such special occasions. Couples and their guests can look forward to yummy party drinks, which are tastefully presented and served at the bar. 
If you're looking into hiring a mobile bar for your wedding, find one with staff that know how to make delicious concoctions, and also those that can foresee what suits your wedding day best. 
Swizzle Bar is one such mobile bar that makes a party merrier. Karla Reyes, Swizzle Bar founder, shares that her early exposure to the food and beverage business inspired her to start the business. Her family owned The Plaza, a restaurant along Shaw Boulevard, where she forged a lot of fond--and sumptuous--memories about food. "My playground was bigger, more dangerous and definitely yummier. In the afternoons after school, I would happily play in The Plaza's vast central kitchen along Shaw Blvd," Karla shares. 
ADVERTISEMENT - CONTINUE READING BELOW
Later on, Karla pursued a  Business Management course so that she could gain the know-how on managing their family business. In 2008, Karla started organizing events as an add-on to their catering services. In these events, she would concoct drinks according to the functions' themes. A year later, her hobby for mixing and making drinks became an idea for a business as she planned her cousin's Grammy Awards-themed debut. Together with the capital earned from an acting stint, Karla's idea came to life with Swizzle Mobile Bar. 
Swizzle boasts conceptualizing drinks according to the client's theme and personality. "I specialize in thematic drinks conceptualization. [T]he bar can [also] be personalized. [T]his gives us a lot of flexibility to adapt to a certain theme or color scheme," says Karla. With a well-grounded history on food and family tradition, Swizzle Mobile Bar promises on making special events such as weddings truly memorable and worthy of cheers.
Load More Stories