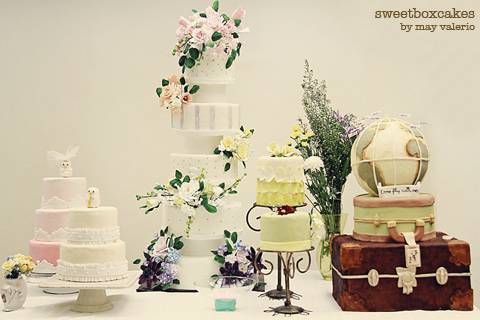 Celebratory and wedding cakes from Sweetbox Specialty Cakes easily become the focal point of any wedding party. There's a certain dreaminess about them--they're the kind childhood dreams conjure and creative hands make real. These are cakes that feel right at home in weddings with an old world feel or ones that are in tune with the modern times.
"My personal philosophy when it comes to cakes is really simple: make it beautiful and delicious," says Sweetbox cake artist May Valerio. Though she makes it sound simple, a lot of research and concept-testing happens before a cake design is launched. Her cakes speak volumes about her background--a formal training from Heny Sison that blends with her love for creating crafts and a passion for delicious desserts honed from childhood. A quick look at her cake portfolio and her clients' testimonials will tell you her cakes have won the hearts of many not just for their prettiness, but more so for their yummy taste.
ADVERTISEMENT - CONTINUE READING BELOW
When a couple is interested to book Sweetbox, the vendor's availability is first confirmed. Then, consultations are held between the artist and the marrying couple to work on the concept, size, and flavor. Meanwhile, those who prefer to entrust most of the decision-making to their suppliers can also take inspiration from Sweetbox's existing portfolio. Once May has the final cake design, she goes back to the couple for their approval. She notes,"Beauty can mean a lot of things, but the bottom line is, it should be beautiful in the eyes of the bride and groom."
No two Sweetbox wedding cakes are the same. Equal parts elegant and quirky, the wedding cakes carry details inspired by the couple's love story or elements inspired from the wedding theme.  The current piece de resistance in May's armory of goodies is the carrot walnut cake generously frosted with buttercream cheese icing. The butter pound cake and the red velvet cake are also palate-pleasers.  For wedding favors, they specialize in caramel cupcakes wrapped in individual boxes.
ADVERTISEMENT - CONTINUE READING BELOW
"To create things that make people happy," that's what Sweetbox Specialty Cakes sets out to do. As the company continues to create joy and satisfaction among clients, it is also working on expanding the variety it offers in dessert buffets, wedding cakes, and party favors.
Through the cakes coming out of its kitchen, Sweetbox has helped many wedded couples customize a piece of their own fairy tales. The wedding is just the beginning, however. Plenty more dreams can follow a great start. The baked goodies from Sweetbox are out to spark many more wishes between newlyweds and their guests.
Comments
Load More Stories