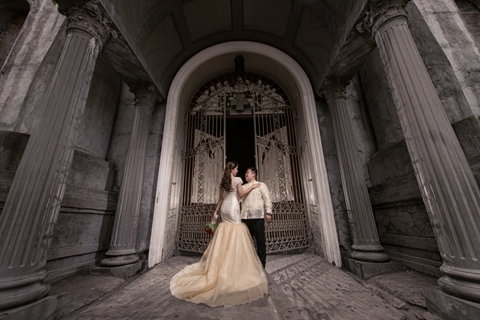 Every wedding, whether it is an indoor church ceremony, a carefree beach gathering, or even an intimate garden celebration, is special in its own unique way. Weddings tell a story, and wedding details can reveal so much about the bride and groom. So when the day has come and gone, we turn to the work of the wedding photographer to reminisce and get swept back to that day love and commitment was sworn and celebrated.

Francis Baluyot and Nathaniel Umali were photography enthusiasts who first gave wedding photography a try at a friend's event in 2011. Discovering a passion for capturing weddings and portraits, Francis and Nathaniel trained further and then put up ShutterWorks Studio. Their small business venture has grown bigger since, and it has taken them to destinations as far as Singapore for engagement pictorials.

In every occasion, ShutterWorks is always on the lookout for elements that give a wedding its own special flavor. "Every wedding is different so we should always showcase something new," says Francis. This goal has always kept them on their toes, and the outcome is usually a portfolio of intimate photo albums that immortalize priceless moments exchanged between the couple and their loved ones. "We want our photographs to be timeless and to remind our clients of their special day," Francis explains.

ADVERTISEMENT - CONTINUE READING BELOW
CONTINUE READING BELOW
Recommended Videos
Though they say that they never imagined they would get this far, Francis and Nathaniel continue to work hard to deserve the following they now have. They put emphasis on their working relationship with couples who have booked them by holding planning sessions to get to know the would-be bride and groom better. They also make it a point to learn about essential details like their love story or their photography preferences.
Even as Francis and Nathaniel's schedule fills up with bookings, they find time to attend workshops given by top wedding photographers like Lito Sy, Keda Z. Feng, and CM Leung and invest in new tools and gear to keep abreast with trends in the wedding industry.

Join ShutterWorks Studio in their upcoming engagement session in Cambodia on May 4-8, 2014.

To know more about ShutterWorks Studio and its wedding packages, click here.
Comments
Load More Stories