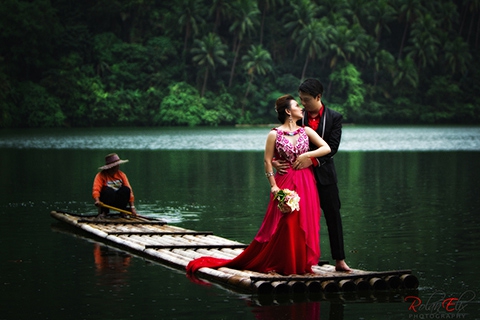 Wedding photos are repositories of all that is wonderful about life--the promise of love and eternal partnership, bright wonder for the future, and uncontainable joy. Imagine standing behind the camera and watching all of these unfold before your very eyes. Such is Rolan Elix's experience every time he shoots weddings. This is also why he feels fortunate with every wedding assignment that comes his way.

It is, in fact, the burning desire to re-live his own wedding that motivates him in wedding projects. It is not uncommon to see him smile as he clicks his camera shutter. However, more than the feeling of nostalgia, it also keeps him on his toes as he constantly asks himself, "How do I want my wedding to be remembered? What are the things that happened on my special day that I did not notice?" In every wedding album he creates, he captures the little details and the big events in pictures to allow couples and their loved ones to relive the real emotions felt during the day.
ADVERTISEMENT - CONTINUE READING BELOW
CONTINUE READING BELOW
Recommended Videos
Elix's kind of passion for wedding photography is refreshing. The excitement and the fresh set of eyes that he brings to each engagement and wedding coverage also comes from years of nurturing the desire to practice photography professionally. When the corporate job he held for decades fell through, he grabbed the chance and put up Rolan Elix Wedding Photography.
Describing his shooting pace, Elix says he just goes with the flow and acts on whatever shooting opportunities the venue and the day provides. He sees to it that he arrives 4-5 hours before the wedding to have ample time to take the necessary pictures without time pressure. For pre-nuptial coverage, he is there as early as 1-1 1/2 hours before the scheduled shoot. Picturesque backgrounds and interesting textures and settings come into play as he allows the couple's uniqueness to naturally emerge. He is always on guard to capture spontaneous and fun moments; he knows photographers like him do not get a second chance. He also emphasizes taking perfect pictures the first time, even with editing techniques at his disposal.
ADVERTISEMENT - CONTINUE READING BELOW
Simply put, love is what Elix's camera captures. He believes that love is something visible. "Have you ever wondered what love looks like? Look at the couples when they exchange vows, look into their eyes, that is what love looks like," he said.
Currently, Elix is a probationary member of the Wedding and Portrait Photographers of CALABARZON and a probationary member of the Wedding and Portrait Photographers of the Philippines (WPPP).
Click here to get in touch with Rolan Elix Wedding Photography.

Comments
Load More Stories