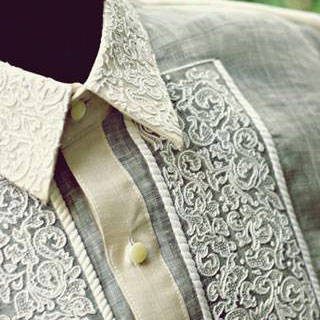 Going Filipino on your big day is not only a nod to tradition and culture, but also a showcase of Filipino craftsmanship and pride. However, only a few shops specialize in the use of pineapple fabric (piña), combined with intricate hand embroidery to create outstanding design. One such shop is committed to protecting and furthering the embroidery industry that has helped shape the town of Lumban, Laguna. What was once the dream business of the proprietresses' grandmother, is now continued by the ladies behind Piñaflor (Simply Rockflower).
Inspired by fine embroidery, Filipino culture, and a good friend--the late fashion designer Ernest Santiago, Piñaflor creates fabrics for Barong Tagalog, wedding gowns and other formal wear, and other handmade crafts of the finest quality in Lumban, Laguna.
Piñaflor has been producing eco-friendly, one-of-a-kind fabrics since 2007. The Lumban artisans (or bordadoras) create their exquisite masterpieces using traditional hand embroidery methods--this gives the fabrics of Piñaflor its unique blend of color and quality, and the detailed process of making these materials has changed little over the years.
ADVERTISEMENT - CONTINUE READING BELOW
Aside from embroidery of piña cloth, Piñaflor can also hand paint the fabric, or incorporate other fabrics with the piña. It has also introduced other crafts into its product line, such as native bags, pillows, and pillow dolls.
Piñaflor recognizes that there are no substitutes or shortcuts for true luxury items. Piñaflor mainly uses piña fabric for barong Tagalog and wedding gowns. The fabric comes from pineapple fiber, a durable white or creamy fiber extracted from the leaves of an indigenous pineapple plant. These fibers are stripped by hand then sun-bleached, knotted, and manually spun on a loom. As the process of making piña fabric is time and labor-intensive, articles of clothing made from this fabric are regarded as heirloom pieces.
Piñaflor uses other fabrics too: piña Dupioni, made with fine Indian silk; piña Cotton, fabric that's cool and lightweight, ideal fabric for beach weddings; piña abaca, piña suksok, and the like. For its other crafts, Piñaflor uses canvas, cotton duck or canvas duck for its native bags, and recycled katsa (muslin) for its pillows and pillow dolls. Piñaflor sources the katsa from its local bakery shop.

ADVERTISEMENT - CONTINUE READING BELOW
It is Piñaflor's specialty to customize fabrics for its customers, as all of its fabrics are one of a kind. Depending on how intricate the design is for either the Barong Tagalog or the wedding gown, it takes Piñaflor two to six months to finish the embroidery on the fabric by hand.
Piñaflor aims to be every bride and groom's choice for Filipiniana wedding attire. Apart from wanting to collaborate with modern designers and artists in the future for its designs, Piñaflor aims to continue supporting the livelihood of the Lumban women by providing hand embroidery workshops--passing on time-tested methods to the new generation.
For more information on Piñaflor (Simply Rockflower), click here.
Comments
Load More Stories