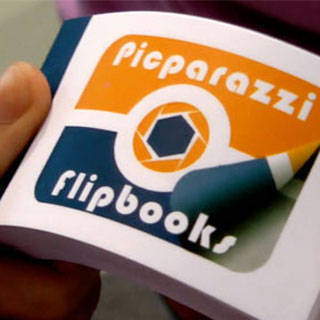 Looking for a unique, creative and witty keepsake for your wedding? If you think photo booths are run-off-the-mill, you may want to consider having flipbook souvenirs instead. A flipbook, or a "moving picture" book, uses a sequence of images or photos in its pages that appear to move or animate, when the pages are quickly turned.            
While flipbooks have been around for years, the onsite flipbook souvenir booth has only been recently trending here in the Philippines. One group, DFX Professional Systems, Inc., saw flipbooks as a natural expansion of its current offerings for personalized events--from outdoor display fireworks and indoor special effects to professional confetti services and Tiffany chair rentals.
With Picparazzi Flipbooks, DFX Professional Systems Inc. takes the photobooth concept a notch higher. Picparazzi Flipbooks makes high-quality flipbook souvenirs right at your event, allowing you and your guests to create and bring home your own flipbook so you could relive that wedding moment time and again. 
ADVERTISEMENT - CONTINUE READING BELOW
For roughly 3m by 3m of space at your wedding, Picparazzi Flipbooks can set up its mobile studio and have you and your guests come over and record a seven-second video. The video is then broken down by Picparazzi Flipbooks' software into still frames, and guests are provided a preview of the video onscreen. If you and your guests are happy with the video, Picparazzi Flipbooks then prints, cuts, and binds the stills onto thick imported cardstock, and have these picture quality mementos ready for you and your guests to enjoy. The entire process takes less than two minutes--about the same time it would take a photo booth to shoot and print a four-shot photo. 
The basic package for Picparazzi Flipbooks starts at PhP12,000 for the first hour, and each succeeding hour will cost an additional PhP4,000. You and your guests are highly encouraged to be creative with your videos, and props are provided to spice up your flipbook. Upgrade options include personalizing your flipbooks, by choosing glossy, matte, or laminated covers. You may also opt for a green screen for your background, which allows you to have a customized digital backdrop for your special day.
ADVERTISEMENT - CONTINUE READING BELOW
Apart from its mobile flipbook studio and onsite flipbook souvenirs, Picparazzi Flipbooks can also convert your videos into flipbooks or make customized flipbook giveaways. With these unique keepsakes, you'll be sure to have long-lasting memories with Picparazzi Flipbooks.
Aside from servicing weddings, Picparazzi Flipbooks can also cover birthdays, Christmas parties, product promotions, school and corporate event.
Comments
Load More Stories