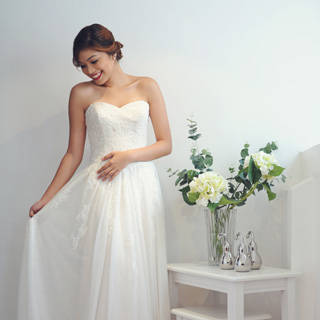 In the Philippines, the traje de boda is a revered article of clothing steeped in rich culture, and for a typical Filipina bride, finding the perfect wedding gown involves going to her favorite designer to have a bespoke dress made. However, when Pepper Periquet-Guanio got engaged in 2006, she challenged Pinoy tradition by going to a bridal boutique in the States to try on a ready-to-wear wedding dress. "It was a wonderful experience and after a round of fittings, I soon found 'The Gown.' It made me confident and excited about how I would look on my wedding day. The gown I wore was a Pronovias gown designed by Spanish designer Hannibal Laguna," she shares.
Purchasing her bridal gown started Pepper's love affair with the Pronovias label, which is considered the leading bridal house in the world. Pepper's passion for the brand grew into a business idea--and four years after her experience with finding her gown, she opened Mi Sueño Bridal Boutique at the Athenaeum Building in Salcedo Village, Makati. Mi Sueño, which stands for "my dream" in Spanish, couldn't be more appropriate for the breathtaking Pronovias creations featured in the showroom. At Mi Sueño, the first local bridal boutique to import ready-to-wear gowns, brides can have the same magical feeling that Pepper had when she found her wedding dress.
The brand Pronovias has featured collections from illustrious designers like Valentino, Elie Saab, and Manuel Mota. The exquisite gowns, which are crafted in Barcelona, Spain, boast of a variety of designs that range from classic to modern. The gowns come in a wide range of sizes, too. After a bride has fitted and chosen a gown at the showroom, an order is placed--and the gown is then especially made for the bride.

ADVERTISEMENT - CONTINUE READING BELOW
While the idea of purchasing an off-the-rack gown is a foreign idea to most Pinay brides, Mi Sueño is creating ripples in the local wedding scene by presenting brides with a novel option. Pepper says, "Buying a ready-to-wear gown is a new concept to many, but we are confident that in time, it will be a widely accepted option. We believe that the Filipina bride has the ability to evolve into a modern bride without completely defying Filipino traditions."
With a ready-to-wear gown, a bride will already get a glimpse of how her dress will look on her. "The primary value of our gowns is really in the creativity of design and the quality of the materials and workmanship. In addition to that, the bride gains a sense of confidence as well as certainty about her gown," says Pepper. The experience also takes out the guesswork and anxiety that some brides might feel as they wait for fittings if they had their gown custom made. "We stand by the quality of our gowns and live by the motto 'What you see is what you get,'" Pepper adds.
Fitting a Pronovias gown at Mi Sueño is precious for any bride. Pepper explains, "The experience is a very fun, personal and memorable one, not just for the bride, but even for the whole family and bridal party. It's a priceless moment of bonding that can only be experienced at an establishment like ours, where everyone can take part in the selection process. We also get to know our brides, which helps us assist them better in finding 'The Gown.' At Mi Sueño Bridal Boutique, we don't just try to help brides find a gown, we forge relationships." Indeed, the beautiful creations at Mi Sueño help create pleasant memories that brides will treasure for years to come.
ADVERTISEMENT - CONTINUE READING BELOW
Browse through our gallery below to see what Mi Sueño Bridal Boutique has to offer.

To know more about Mi Sueño Bridal Boutique, see their listing here.

Comments
Load More Stories