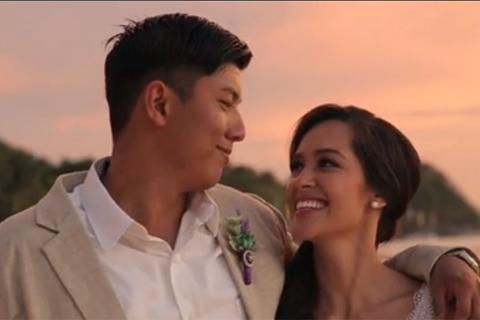 A well-crafted wedding video is an art form. Truly memorable Same Day Edit (SDE) videos and wedding footage are a mix of several things: music that perfectly captures the feel of the wedding day, shots of moments crucial to the story of the bride and groom, and sharp technical know-how in cinematography, lighting, and post-production editing, among others. Such videos require creativity and mastery of craft. Over the years, a name has emerged in wedding videography and, recently, wedding photography: Mayad Studios. Those who have followed their career from the beginning can attest how the team behind Mayad Studios has gotten better over the years to become one of the country's most sought-after video and photo suppliers in the wedding industry today.

Little do people know that Mayad Studios started out as a web development company back in 2006. They first tinkered with the thought of dabbling in wedding videography when one of their colleagues attended a wedding, and saw the video made for the couple. He suggested that the team try to make one as well. The team enjoyed the experience, and they also considered the profitability of wedding videography and the chance for creative growth. Finding the conditions favorable, the team decided to join the wedding industry. The lovely, optimistic people they met later on further affirmed their decision to venture into the wedding business.

CONTINUE READING BELOW
Recommended Videos
ADVERTISEMENT - CONTINUE READING BELOW
Team Mayad finds joy in being part of the happiest day in the lives of couples. A fascination for relationships and its variety has kept them inspired through the years. They have kept their approach fresh with the awareness that their goal is always to document one-of-a-kind stories. By asking the brides and grooms specific details--like how they got together or what's wonderful about their relationship--the team is able to piece together crucial details and produce a video or an album of photos that amazes, captures, and captivates.
The team keeps things light when they're working with clients. Couples can expect to encounter a mix of unique, multi-talented, and somewhat crazy people who bring with them a contagious atmosphere of laughter and adventure. Drawn towards different types of fashion, literature, and music, one of Team Mayad's biggest strengths is their ability to draw from a wide range of inspiration. Their works are romantic and elegant, and have an undercurrent of the language found in editorial documentaries and fashion shoots.

ADVERTISEMENT - CONTINUE READING BELOW
In Ilonggo, the term "Mayad" is synonymous with "good." And with every new day and every new assignment, Team Mayad finds ways to do good, surprising themselves by being better than the last time.
To inquire and see sample videos from Mayad Studios, click here.

Comments
Load More Stories