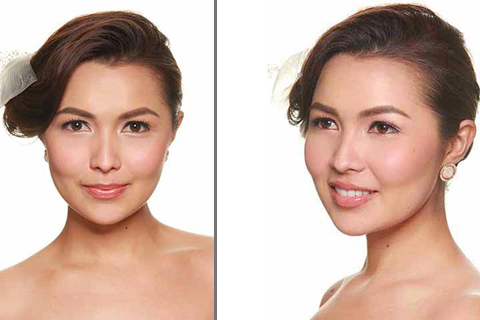 Included in the most important decisions a bride makes for her wedding is choosing a makeup artist. While love has the ability to make happiness shine through regardless of one's makeup, having a trusted stylist is a surefire way for a bride to lessen the pre-wedding stress and focus on savoring every minute of the big day.
Therese Claire Anne is in the business of making sure women (and men) look their best. With a diploma from the Makeup Designatory School in the US, she glamourizes  models for fashion shows and photo shoots and helps theater actors slip into their roles through her makeup brushes. Nonetheless, she sees bridal assignments as a pretty special privilege. "A bride has to look her most beautiful and most confident on her wedding day. She is different from other clients because her style and comfort level always comes first," she shared. The consultations with her client are very important for Therese because once the makeup session starts, she lets herself be guided by what the bride wants.

ADVERTISEMENT - CONTINUE READING BELOW
CONTINUE READING BELOW
Recommended Videos
Through the years of applying bridal makeup, she has come to favor looks which are soft, elegant, and natural. She loves placing emphasis on the eyes with a light smoky-eye trick and blends this with soft pinks and peach on the lips and cheeks. Of course, if the bride has a particular request, Therese gives her best to prettify the bride according to her vision.
Therese's creativity, complemented by the kind of humility that allows her to put her brides first and foremost, is a godsend.  "Getting to play such a big role on a happy and momentous occasion is one of the things I am passionate about. I want each of my brides to look fresh and feel radiant," she said. On the biggest day of a bride's life, not worrying about the makeup is but a minimum. Along with taking everything in--the ceremony, the styling, and all the small details--her makeup is something she deserves to just bask in and enjoy.
ADVERTISEMENT - CONTINUE READING BELOW
Click here to get in touch with Makeup by Therese Claire Anne.

Comments
Load More Stories