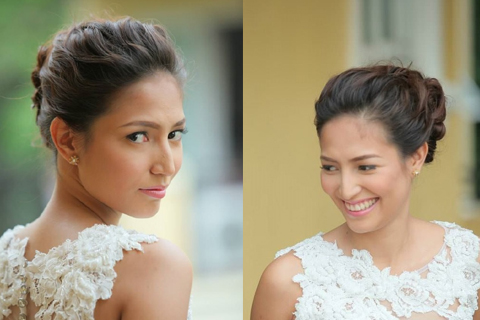 Every bride deserves the kind of bridal make-up that will still make her feel beautiful five, ten, or twenty years down the line when she looks back on her wedding day. This is why choosing the make-up artist is no small deal: asking someone to do your make-up is essentially entrusting them with a big part of how you will appear in photos and how you will feel on the day you walk down the aisle. You want someone who is really talented. At the same time, you want your talented make-up artist to be the kind that listens.  Finding a make-up artist who shares your vision and who has the skills to amplify your natural beauty is a serious quest.
Mhec Gado has been in the business of doing bridal make-up for 3 years. Once set on climbing the corporate ladder, Mhec realized how alive she truly feels when she is helping other women realize how beautiful they are by enhancing their natural features through make-up. There was no turning back once she traded her formal suits for her make-up apron. 
ADVERTISEMENT - CONTINUE READING BELOW
CONTINUE READING BELOW
Recommended Videos
With a style aesthetic shaped by a love for art and from growing up surrounded by stylish women, Mhec knows each bride has her own unique sensibility. She sees every wedding as a collaboration between her in her make-up apron and the bride in her beautiful white dress, and crucial to this partnership is her skill in paying attention. Mhec does not just wield her make-up brushes; she also tries to understand her bride's spoken and unspoken desires.  Before she starts working her magic on them, she takes the time to get to know each bride and assess their skin condition, facial structure, and style preferences.
"No two brides are alike" is a belief that Mhec holds. Her portfolio shows you just that: photos of glowing brides who look fresh and youthful, each radiating their own unique beauty, the kind that five, ten, or twenty years down the line will faithfully mirror who they were when they said "I do."
ADVERTISEMENT - CONTINUE READING BELOW
Comments
Load More Stories