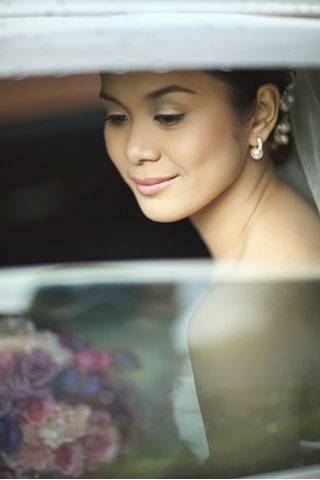 When it comes to bridal makeup, most brides would spare no expense. A wedding is no everyday feat, and most girls have looked forward to their special day for longer than they'd like to admit. From the intricate decorations to the teary-eyed audience, every detail matters, with one detail radiating in prominence: the bride herself.
With this in mind, most brides search long and hard for the perfect makeup artist to accompany their special day. One that they can, without any doubt, trust in his or her knowledge and extensive experience. Julie Ebio delivers exactly that.
Julie has garnered four years of makeup artistry experience before delving into bridal makeup for the past three. As a makeup artist, Julie certainly knows what works best for brides--to look beautiful, but still recognizable. "[I aim] make you feel that you're still you," she shares. Her bridal look is not only one that would make her brides beautiful and flawless, but also last her day. In fact, she states this as her unique factor from other artists. "I make sure that the makeup will last. [I give the bride a] look to highlight and enhance her best features, and would last the entire day with minimal touch ups." she assures. "It's beautifully defined and timeless."
ADVERTISEMENT - CONTINUE READING BELOW
CONTINUE READING BELOW
Recommended Videos
Julie certainly knows how to please her brides as well, and how to make them feel comfortable not only with her, but in their own skin as well. "I always ask the client's preference and the look that they want before styling them," Julie shares.
While Julie has mastered working with different types of brides, there is still that hunger for learning. Julie keeps up to date with the latest styles and techniques by browsing online, studying through reading materials, and through practical application in short courses for makeup techniques. "And it pays off to know what products to use for different types of skin," she adds.
With her years of experience and makeup knowhow under her belt, Julie Ebio is certainly every bride's dream.
Comments
Load More Stories