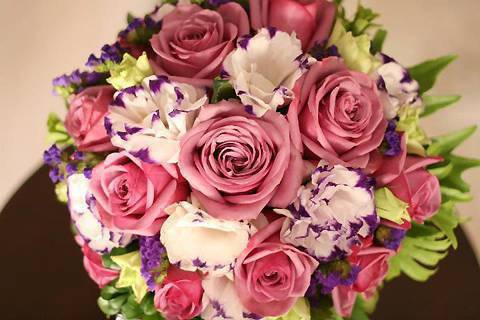 Usually, developing an eye for beauty and nourishing a healthy appreciation for art start at an early age. That interest in the arts, if cultivated, can shape one's chosen profession--and such is the case of Jacqueline Wong, founder of the Jacqs Floral Design Studio.
As a child, Jacq (as she is fondly called) frequently spent her time with her grandmother, whom she considers an incredible artist. "I remember my grandma would draw me pictures that fueled my imagination," she fondly recalls. "My earliest memory of flowers was with her. I remember her taking me to the garden, showing me her plants and letting me help spray her orchids. I see the world differently because of her."
It was this childhood that made Jacq discover her passion for flowers in later years. She was working as a graphic artist in Hong Kong at that time, when her friend brought her along to a flower shop to pick flowers for a sick friend. The seed of interest that started when she was a young girl turned into a full-blown fascination after that, so much so that she decided to pursue being a florist as a career. After formally training in the Institute of Philippine Floral Techniques and Hong Kong Academy of Flower Arrangement, she started her own company, Jacqs Floral Design Studio.
CONTINUE READING BELOW
Recommended Videos
ADVERTISEMENT - CONTINUE READING BELOW
While Jacq is considered a fledgling in the wedding industry, her passion for her work more than makes up for the neophyte status. Jacqs Floral Design Studio recently turned one last May--a feat in itself, considering Jacq is only in her mid-twenties. Still, Jacq does not want to rest on her laurels. She keeps herself updated with the trends of the industry by painstakingly poring over every detail of the bouquet according to the bride's preferences and suitability to wedding theme.
Jacq shares. "I draw inspiration from almost anything and everything. Most of the time I take the personality of the couple and express it into the bouquet," she adds. Jacq describes her style as simple and modern. "Since not all flowers come in all colors, it's crucial to choose flowers that would go well with the theme," she says. 
She approximates about a year to a few months for a good preparation, although sometimes, she gets couples who finalize their wedding flowers a month before the wedding. To ensure that she gets the flowers that she needs, she orders from her suppliers about two to four weeks before the event. Jacq also understands the instability and irregularity of flower supplies due to unforeseen circumstances (lack of harvest, calamities, and delivery problems), and so she employs creative solutions to counter that possibility. She relies on several different suppliers, and thinks on her feet in case she needs to substitute blooms. By doing so, she avoids displeasure and disappointments from clients, who come from different backgrounds, ages, and financial status.
ADVERTISEMENT - CONTINUE READING BELOW
The future of Jacqs Floral Design Studio seems bright, spearheaded by a very wise lady with a good head on her shoulders. While most industry florists also dabble on event styling, Jacq wants to take the company to a different path. "I want my company to specialize in creating entourage flowers. But I'm not limiting the company to that. I'd also like to arrange flowers for establishments, for the home and as gifts," she discloses. She further explains, "If you peel off the layers of my company, my business is very personal. Deep down, I want people to appreciate flowers like art. The aim of my company is not only to arrange flowers, but also to enrich the lives of people through them."
To see sample works and learn more about Jacqs Floral Design Studio, click here.
Comments
Load More Stories