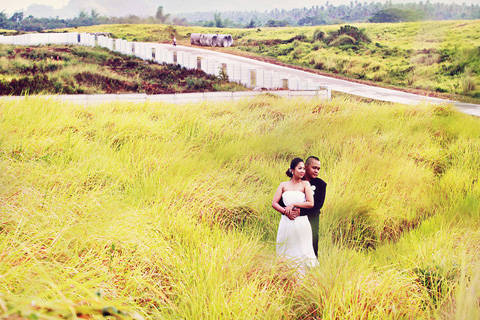 On their wedding day, every couple wants to feel like they're the romantic leads in a critically-acclaimed film. Although it's not very likely that every wedding will automatically be made into a successful movie, it's at least possible to immortalize the same romantic moments in photographs.
A self-confessed movie addict, photographer Vladimir Lima of Honeycomb Weddings has a similar desire when it comes to documenting the cinematic moments between bride and groom. Talking about the two fields, Vladimir says, "Film is not that far [from] photography since both are [about] balancing light to capture [a] great scene."
Vladimir says he draws inspiration from films, which he usually watches the night before a wedding coverage or a prenuptial shoot. But Vladimir is quick to point out that he doesn't stay up all night before the shoot: "I sleep [for] at least six hours [to] condition myself to [let] more ideas to sink in."
ADVERTISEMENT - CONTINUE READING BELOW
CONTINUE READING BELOW
Recommended Videos
What results from this method of preparation is what he believes to be a cross between photojournalistic and fashion styles, which makes for satisfied clients: "I think my vision is to provide happiness and to document [the event] as best as I can," he shares. Like a dedicated film director, Vladimir also admits that among the things he takes care to do before each shoot are to examine the location and of course, to talk to the couple. "I think communicating with your subject is very important," he adds.
And like any memorable film or beautifully-captured pictures, this photographer knows the value of emotions. For Vladimir, what makes his photographic style unique is his ability to blend all sorts of styles with the varying emotions on the wedding day. "It's part-contemporary, part-traditional, both happy and melodramatic."
One may be surprised to know that in the beginning, Vladimir had no interest in cameras. That is, until he attended a wedding. He says,  "One of our best friends came along from Singapore to attend the wedding, [and he] brought his camera with him. At first I [didn't] really have [an] interest [in] cameras since I know [they're] very costly, but I was clever enough to borrow [my friend's] that time and try it out on [the] wedding day."
ADVERTISEMENT - CONTINUE READING BELOW
What happened next was like a great movie moment: less than a week later, he bought his own camera, and his journey as a photographer began--and thus continues. More importantly, Vladimir hopes that he will make more clients happy as he strives to be one of the best in the industry. A truly hardworking photographer who's not afraid to constantly look for inspirations--whether it be from movies or fashion magazines, it's certain that countless more newlyweds will feel like movie stars on their big day, with Vladimir behind the camera.
To see sample photos and learn more about Honeycomb Weddings, click here.

Comments
Load More Stories