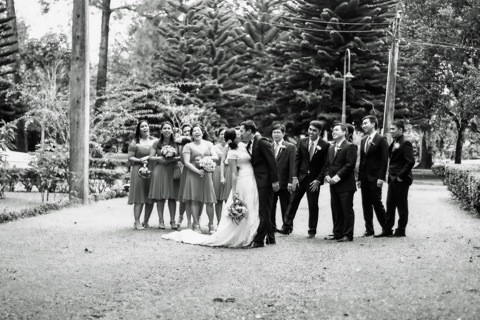 Most wedding photographers nowadays have a formulaic approach to weddings. They shoot the same subjects, using their tried-and-tested style from the most obvious angles. The output is lovely, but the kind of photos you've seen somewhere before. But Drew and Czy of Reflective Chemistry Photography are unlike most. Driven by real passion to tell colorful stories, they pour their hearts into every project, trying to capture what others often miss.

Drew and Czy knew each other from high school but it was only in 2010 that they met again and discovered a shared penchant for photography. Aside from a common hobby, both found themselves unhappy with where their careers had led them. The pair began shooting on the side for fun, but they soon realized that this was their true calling. Thus, in September 2011, Reflective Chemistry was born.

On its first year, Reflective Chemistry delved into advertising and documentaries. However, after booking their first wedding, they were hooked. They fell in love with the couples and their unique stories. And not only did they find the work fulfilling, but they also began to find their signature style. Drew describes their work as "light, free-flowing, sometimes quirky, but mostly candid." And Czy agrees that their approach allows them to capture the tiny yet important details that are typically overlooked.

ADVERTISEMENT - CONTINUE READING BELOW
Another thing that sets Reflective Chemistry apart is how well they treat their clients. For them, being a part of such a special time in people's lives is a privilege which is why their customers become friends and eventually family. They go the extra mile to make sure their clients' style and personality translate perfectly in every shot. Usually, couples come to them with no idea of what they want, so Drew and Czy plan meticulously, create mood boards and collaborate with the couple until they settle on a look they are happy and comfortable with.

Drew and Czy also avoid executing the same concepts over and over. Instead, they research constantly on the latest trends, experiment with new ways of shooting and brainstorm before every single shoot to ensure that the couple's big day goes off without a hitch.

Despite being new to the scene, Reflective Chemistry has no plans of slowing down. The creative duo is keen on expanding and adding talented people to their team. And with their kind of determination, it certainly won't take long. From batchmates, to friends, to discontented yuppies and now successful business partners, Drew and Czy have come a long way but deep down they're still just hopeless romantics eager to be a part of every love story that comes their way.

ADVERTISEMENT - CONTINUE READING BELOW
To see sample works by Drew and Czy of Reflective Chemistry, click here.

Comments
Load More Stories