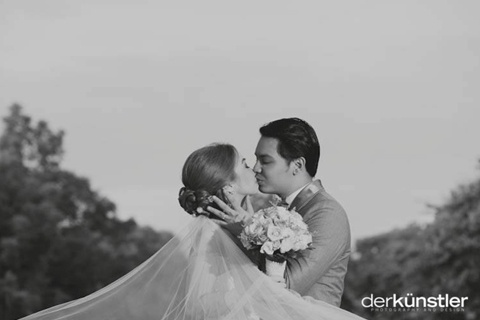 Inspiration can come from anywhere. But there is one thing that greatly inspires everyone--love. For wedding photography team Der Künstler Photography, it is this great feeling that drew them to the wedding industry. "There's just something positively delightful about being with people who are in love. It's infectious. Whether it's a nervous and excited groom waiting at the altar for his radiant soon-to-be-wife, an eager young man kneeling to propose his undying love, or a bride's teary-eyed father preparing to give his daughter away as they walk the aisle, there is always a beautiful story behind [every] picture," shares Yvette Lising of Der Künstler Photography.
Der Künstler, according to Yvette, is German for "The Artist." It was the name of her father's old film photography studio, which she decided to revive in 2012, and remodelled it to fit the current market demands. With her chosen company name, Yvette presents her team's various creative backgrounds--such as photography, graphic design, illustration, and advertising--which are seamlessly joined to produce one-of-a-kind wedding photos.
ADVERTISEMENT - CONTINUE READING BELOW
Yvette describes her team's photography style as "vibrant, whimsical, and nostalgic." "We put great importance in color as a mood setter for our photographs, and then combine it with good composition and proper lighting to give our clients something awesome," explains Yvette.
CONTINUE READING BELOW
Recommended Videos
With the team's diverse styles and formal training in the arts, Der Künstler identifies itself apart from other wedding photography teams. Their ability to identify and execute what makes for a good photograph also allows them to keep a critical eye, maintain a high set of standards, and deliver quality outputs.
Moreover, Yvette and her team seeks to establish a close working relationship with their couples to have a clear sense of what they want for their big day. The team makes an effort to note down all the necessary details, from location to schedule, theme, and expected output. "It's a good way to get acquainted and build trust, so our couples are more comfortable with us during the event," says Yvette.
ADVERTISEMENT - CONTINUE READING BELOW
Equipped with mastery of their craft and commitment to provide good customer service, Der Künstler allows marrying couples to relive their big day through remarkable photographs by artists constantly inspired by love.
Click here to see sample wedding photos by Der Künstler Photography.

Comments
Load More Stories